You Will Never Think That Learning How To Old Navy Super Cash Online Could Be So Beneficial! But It Is!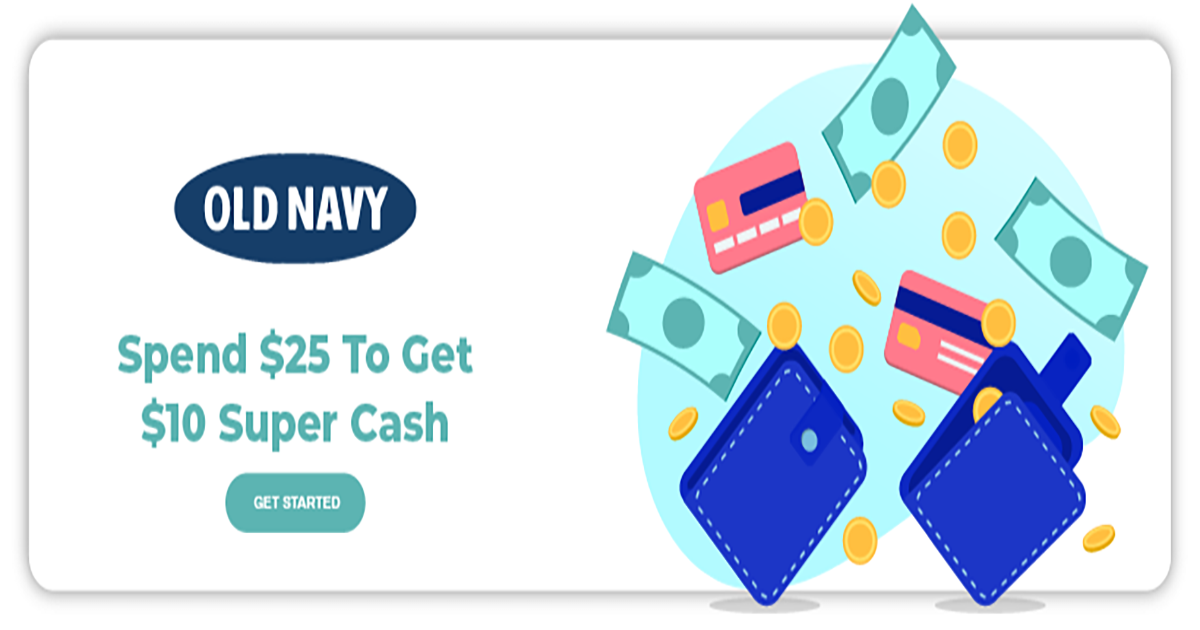 Super Cash is the ultimate in bargain shopping, allowing Old Navy customers to maximize their purchasing in order to get the best deals at the best rates. If you're curious about "How Does Old Navy Super Cash Work?", this guide is designed for you. Our Old Navy article will show you how to acquire Old Navy Super Cash and how to utilize it to your advantage when shopping.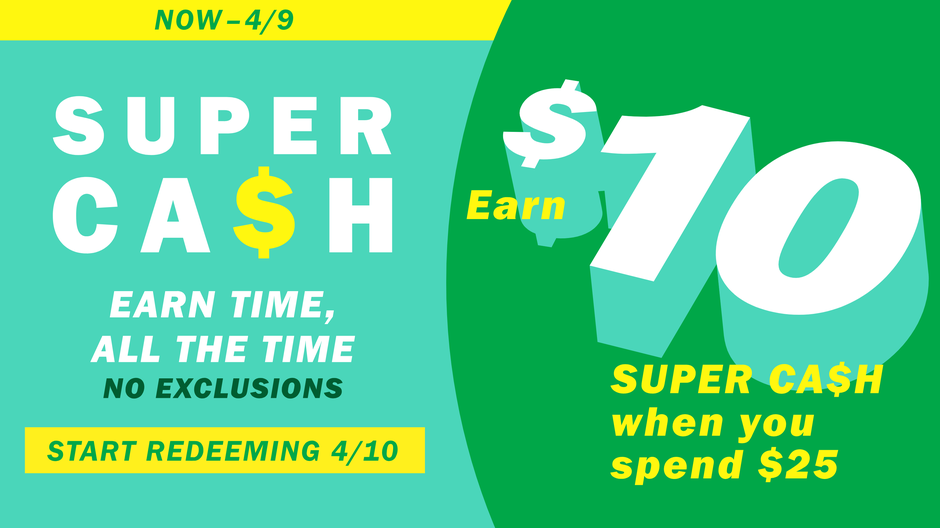 Overview Of Old Navy
If you are a shopaholic, you might be familiar with the Gap brand and its quality products. Today, we want to introduce you to a little bit about its branches - Old Navy. As one part of Gap, Old Navy focuses more on clothing in less price in order to approach the low to the middle class in the market.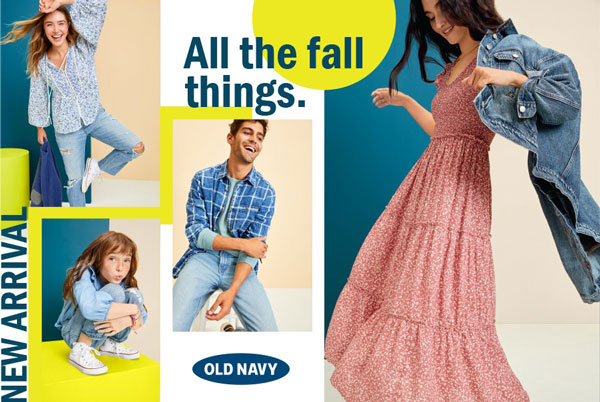 Old Navy has been creating the whole family clothes with classic designs at accessible costs for over two decades. It's a one-stop destination with a variety of clothing options but still trendy and chic suitable for multiple occasions. Their soft and quality bottoms for kids are approved by most of the parents living in Canada as well.
For anyone who is finding a place for budget-friendly items, Old Navy offers are legendary for being incredibly cost-effective, and the remarkable program named Super Cash is strong evidence for its generous discounts. Through this program, customers at Old Navy can not only purchase high-quality products at a reasonable price but also receive an additional saving on the amount of your spending here. For more details, scroll down and explore with us.
What Is Old Navy Super Cash?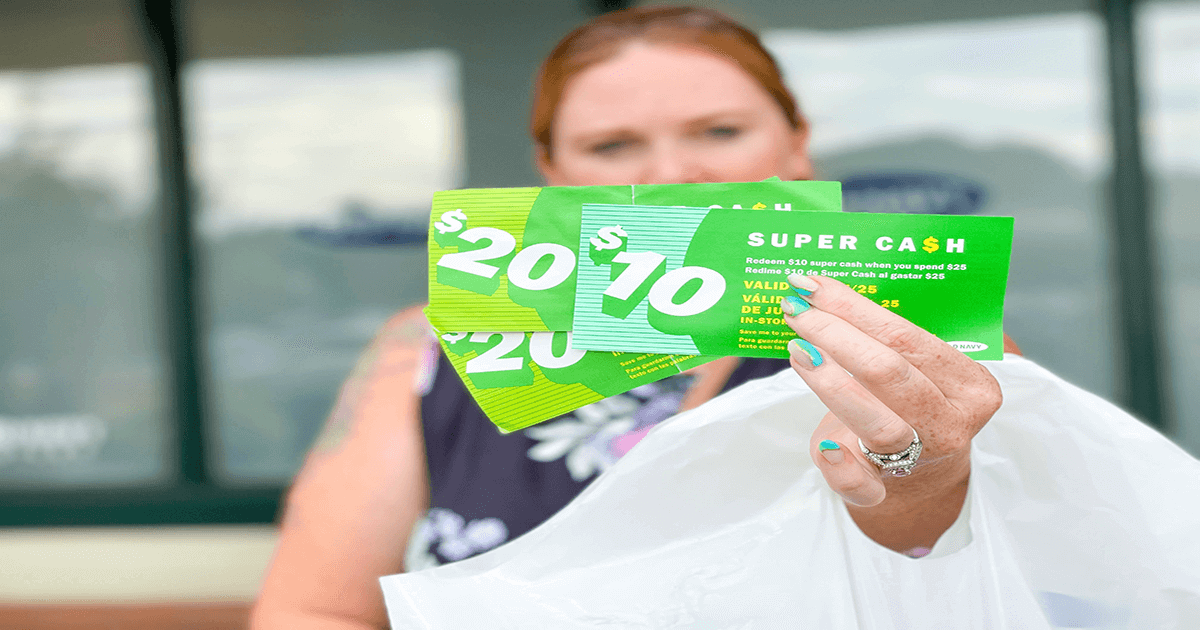 Old Navy super cash is a reward program from the retailer to all of the shoppers who make an order both online and in the store. Customers may save additional money at Old Navy stores and online by enrolling in the Super Cash program. The coupons can be earned and redeemed throughout the year at specific 'Super Cash' times.
| | | |
| --- | --- | --- |
| Old Navy Total Spending | Supper Cash Earning Online | Supper Cash Earning In-Store |
| $25 - $49.99 | $10 | $10 |
| $50 - $74.99 | $20 | $20 |
| $75 - $99.99 | $30 | $30 |
| $100 - $124.99 | $40 | |
| $125 - $149.99 | $50 | |
| $150 or more | $60 | |
Based on what Old Navy claimed, every spending of $25 will earn extra $10 super cash which you can store and use for your next order. So amazing, right? But don't burn your cash due to this appealing program because there are some constrictions. Continue and read the term below for information.
How Can You Receive Your Old Navy Supper Cash?
You can earn different amounts of Super Cash depending on how much you spent and whether you made the purchase in a shop or online. While the program runs, you will only receive one voucher per transaction. Customers shopping in our retail stores will receive the relevant coupon based on their earned purchase amount from the cashier.
You will get your Super Cash voucher through email within about 24 hours after completing your qualifying transaction if you are an online client. You'll also be able to store your coupons on your phone or tablet for later use. The appropriate supper cash that you can earn for each purchase at Old Navy was mentioned above, you can check the table for more details.
How To Redeem Old Navy Super Cash Online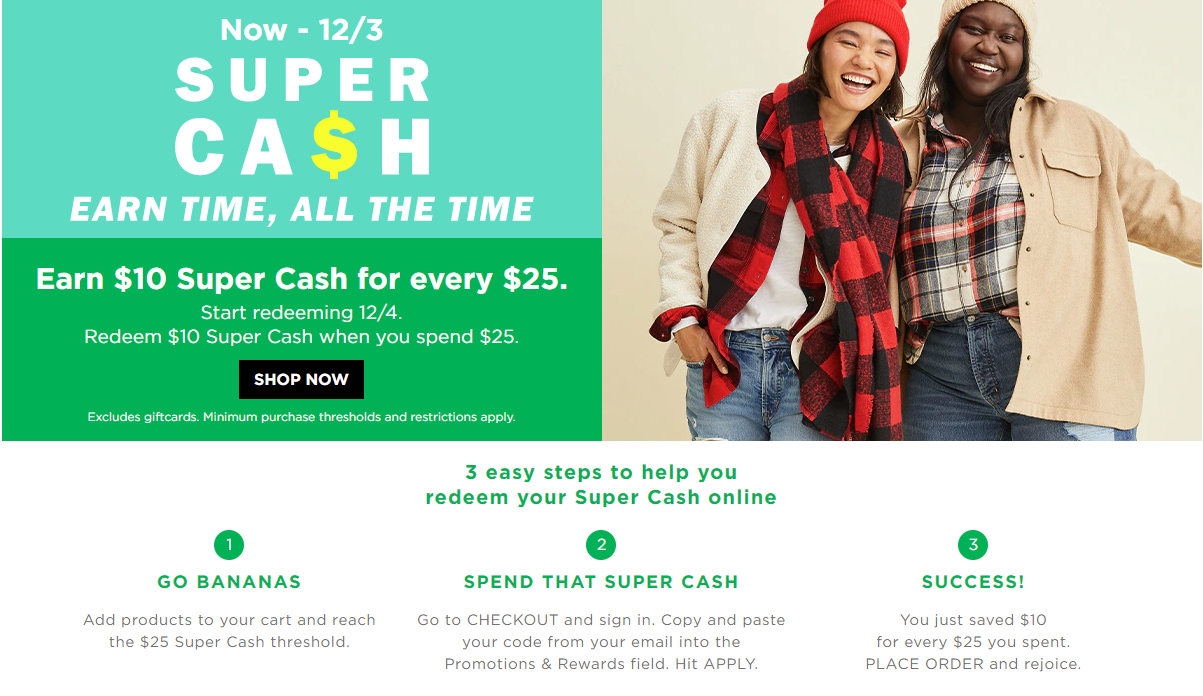 It is super easy to use your Super Cash online. Just go through our three steps and enjoy your savings.
Step 1: Go online with the official website of Old Navy and start your shopping with everything you want. The more spending you make, the more money you save. The minimum super cash threshold is $25 so add more items to reach the condition.
Step 2: Time for spending your super cash. Check out with your Old Navy account and add your code which is sent via your email address. Once you are done, tap "Apply" to receive your discount.
Step 3: Finish your transaction. Your bill was reduced by $10 for every $25 spending.
Things You Should Consider While Using Old Navy Super Cash Online
Old Navy Super Cash is an effective way to save incredible amounts but it also comes with some terms and conditions to protect the company from the abuse of the discount program. Here are some statements you should read before taking advantage of the cash coupon.
Minimum purchase thresholds don't include:
Total spending on gift cards
Any purchase that occurs outside the valid Super Cash period
Packaging fee, shipping cost, gift wrap, or taxes
Within the eligible time period, the maximum coupon you can redeem from the Super Cash program is $60 per transaction. The redeemed cash coupon can be used one time only and can't exchange for cash value as well. Other offers will not be added together with this coupon into one purchase.
Super Cash coupons must be presented in-store at the time of purchase, or a code must be entered at the time of online checkout.
The amount of the reduction applied to the purchase price due to the use of a Super Cash coupon will be distributed evenly among all items purchased in the transaction.
The dollar value discount of a Super Cash coupon will not be returned or credited back if you return some or all of the products purchased with a Super Cash coupon.
Each Super Cash you earned from the program values 1 Reward Point so that before the expiration date of your cash coupon, you can convert it to rewards points to continue your incentives.
Related posts:
>> Old Navy Gift Card 101 Guide For Checking The Balance
>> Guide To Find Your True Size With Old Navy Jeans Size Chart
>> Simple Guidance For You In Choosing The Right Old Navy Shoe Size
>> Read This Review Of Old Navy Leggings Before Deciding To Purchase