The Comparison Between Cerave Moisturizing Cream Vs Lotion: Which One Is For You?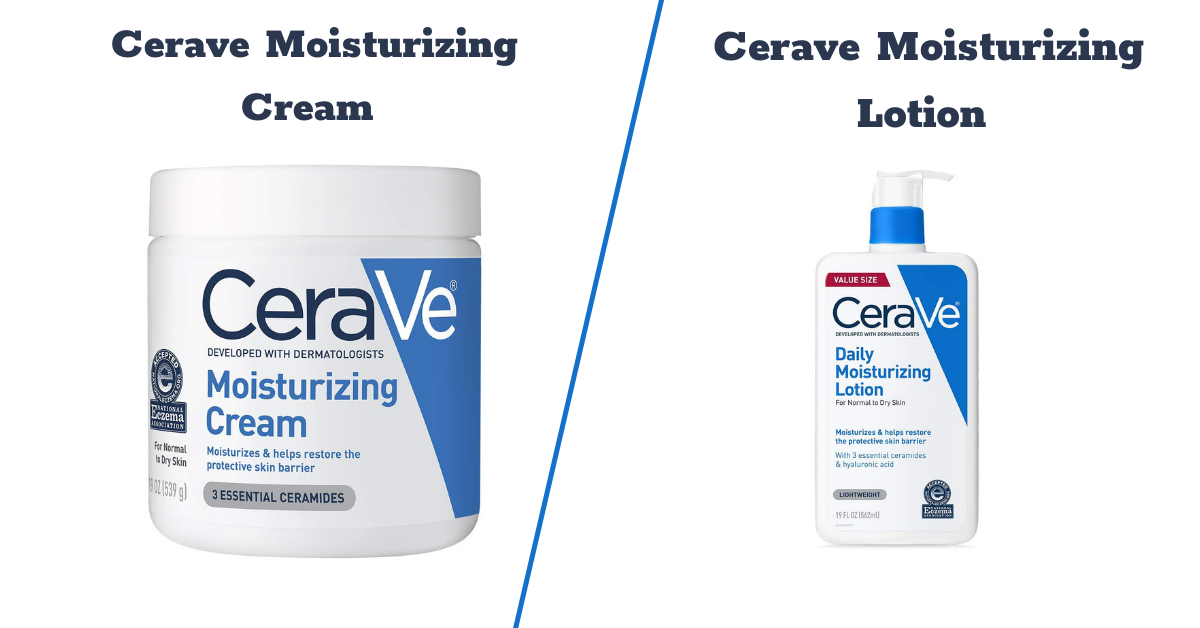 Have you decided which moisturizer is for your skincare routine? If not, Cerave is our recommendation. Cerave moisturizing cream vs lotion is the best-selling item for any type of skin that is usually suggested for sensitive skin or treatment skin. Our article today will focus on the differences between these two items with texture and the recommendation on the skin type. Continue your reading to know whether this brand is for you or not.
Having smooth and healthy skin is not simple as we usually talk about. There are a lot of tips and guides online that guide us to have a glossy outcome but it does not work for you. The answer is so simple that you might ignore that is to keep your skin clean and hydrated. Come with us to explore and discover the two on-hunting moisturizing items from Cerave which are referred by many dermatologists. Enjoy!
General About Cerave
For effective solutions at a reasonable price, CeraVe is a well-known drugstore skincare brand that uses components that have scientific support. Dermatologists frequently advise using this brand, especially for people with dry skin. There are many products released with hundreds of purchases each day worldwide. This brand has distributed its products all around the US and spread widely to other countries so that they can reach those in need. Cerave promotes its products as gentle products for any type of skin, especially sensitive skin. The most famous product line from Cerave is its moisturizer which is explored and mentioned in our article today. If you want to know more details, scroll down and continue your read with the similarity and differences between Cerave moisturizing cream and lotion.
Cerave Moisturizing Cream VS Lotion Comparision: Similarity
When comparing something, we need to dip into the similarity with the effect, the formula, ingredients, and many others to know why these two items are always taking the attention of customers. According to dermatologist Dr. Kiran Mian, both Cerave moisturizing cream and lotion are made from natural ingredients that are free of oil and fragrance. On the formula provided, they share almost the same ingredients with 19/24 similarity. The rich nutritious formula includes glycerin, hyaluronic acid, and ceramides which can brighten and solve the common problems of your skin such as redness, uneven skin tone, and many others. Both Cerave moisturizing cream and lotion are the results of Multivesicular Emulsion technology which, according to Dr. Mian, enables the distribution of ceramides to the skin evenly for a whole day providing enough hydration for an active day.
Cerave Moisturizing Cream VS Lotion Comparision: Differences
| | | |
| --- | --- | --- |
| Comparison | Cerave Moisturizing Cream | Cerave Moisturizing Lotion |
| Texture/ Consistency | Thick and rich in texture | Lightweight and fast-absorbing |
| | | |
| Skin Type | Dry To very dry skin | All skin types |
| Formula | Heavier moisturizing formulas | Adequate hydration formulas |
What makes Cerave moisturizing cream different from Cerave moisturizing lotion? it can be shown right in its name cream and lotion. While cream has a thick consistency, lotion features a lightweight texture that is easy to absorb on your skin. Petrolatum, often known as petroleum jelly, is a notable ingredient in the moisturizing cream which is excellent for dry, damaged skin. In addition, due to its thick texture, the CeraVe moisturizing cream would be most beneficial for persons with extremely dry skin. On the other hand, the lotion will be the best fit for oily skin with a non-comedogenic formula to avoid dirt clogging your pores.
The Moisturizing Lotion, in contrast, is remarkable for being entirely free of oil and only contains emulsifiers as an additive to enhance the lotion's feel. This results in a texture that is incredibly thin, non-greasy, and quick to absorb. But for those who have normal or combination skin, only using a lotion is not enough. While Cerave moisturizing cream is too heavy for your skin, the lotion is too light, consider using both of them in your routine. Using lotion in the morning and cream in the evening might be a good idea to hydrate your skin.
Cerave Moisturizing Cream VS Lotion Famous Products: Which One Is For You?
CeraVe Moisturizing Cream
Three crucial ceramides are present in CeraVe Moisturizing Cream, which together serve to rebuild your skin barrier and provide enough moisture for a whole day. Ceramides infused by MVE technology ensure effective distribution within the skin and gradually hydrate your skin over time, strengthening your skin barrier while applying.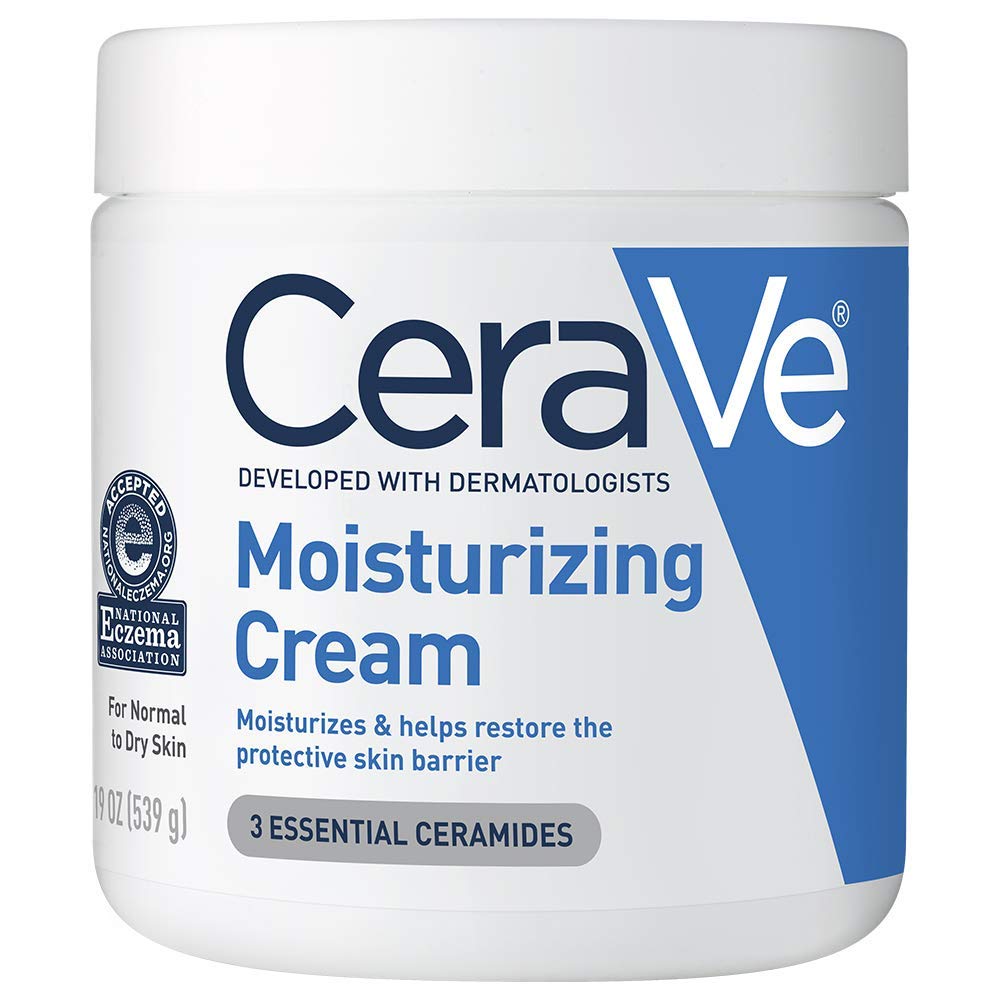 >>> Click here to activate the Amazon coupon code on this product
CeraVe Daily Moisturizing Lotion
Ranking the second best seller from Cerave is this lotion which is thin and oil-free as a natural barrier for any skin type. This item is formulated with three crucial ceramides building a protective layer while locking moisture. It delivers constant hydration while leaving the skin feeling soft and comfortable.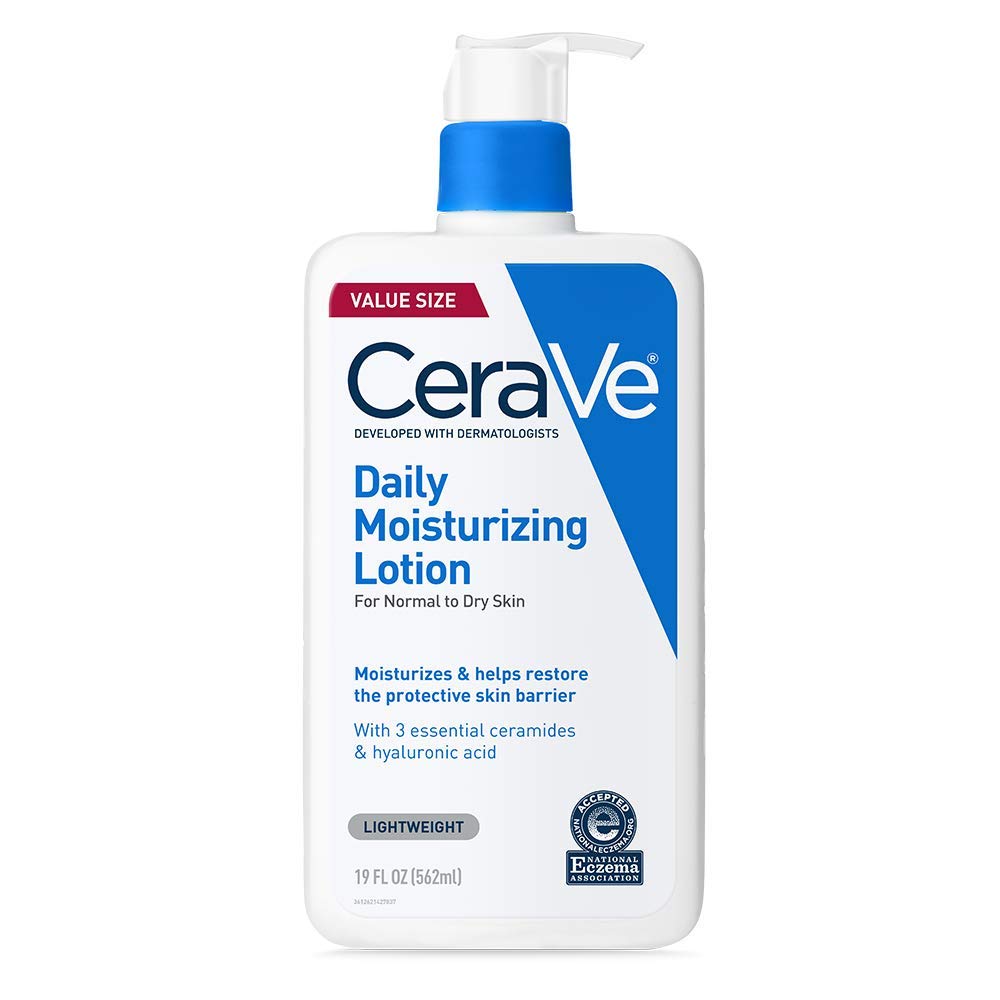 CeraVe Daily Moisturizing Lotion
>>> Get a coupon for this lotion here
CeraVe Moisturizing Cream with Salicylic Acid
The next one is our priority option for people with rough and bumpy skin. This moisture contains salicylic acid which can gently exfoliate, unclogs pores, and overall promotes smoother skin. Made with three essential ceramides, this Cerave cream will hydrate your skin and strengthen it at the same time.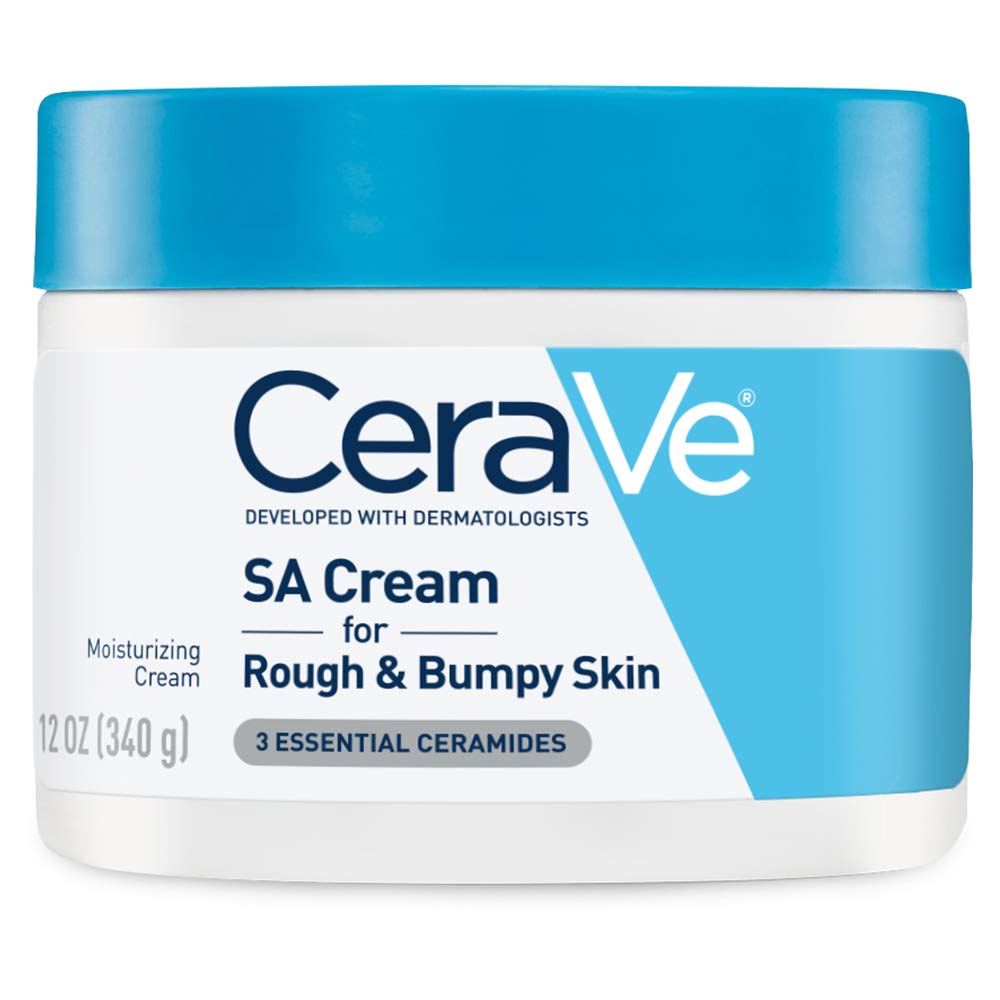 CeraVe Moisturizing Cream with Salicylic Acid
CeraVe AM Facial Moisturizing Lotion SPF 30
For the majority of skin types, CeraVe AM Facial Moisturizing Lotion is a fantastic option if you're searching for a mild, nourishing moisturizer with sunscreen for everyday use. The non-greasy, fluid solution contains both chemical and physical sunscreen components and absorbs swiftly into the skin. Niacinamide, glycerin, ceramides, and hyaluronic acid infused inside this product will be the perfect solution for hydrated skin.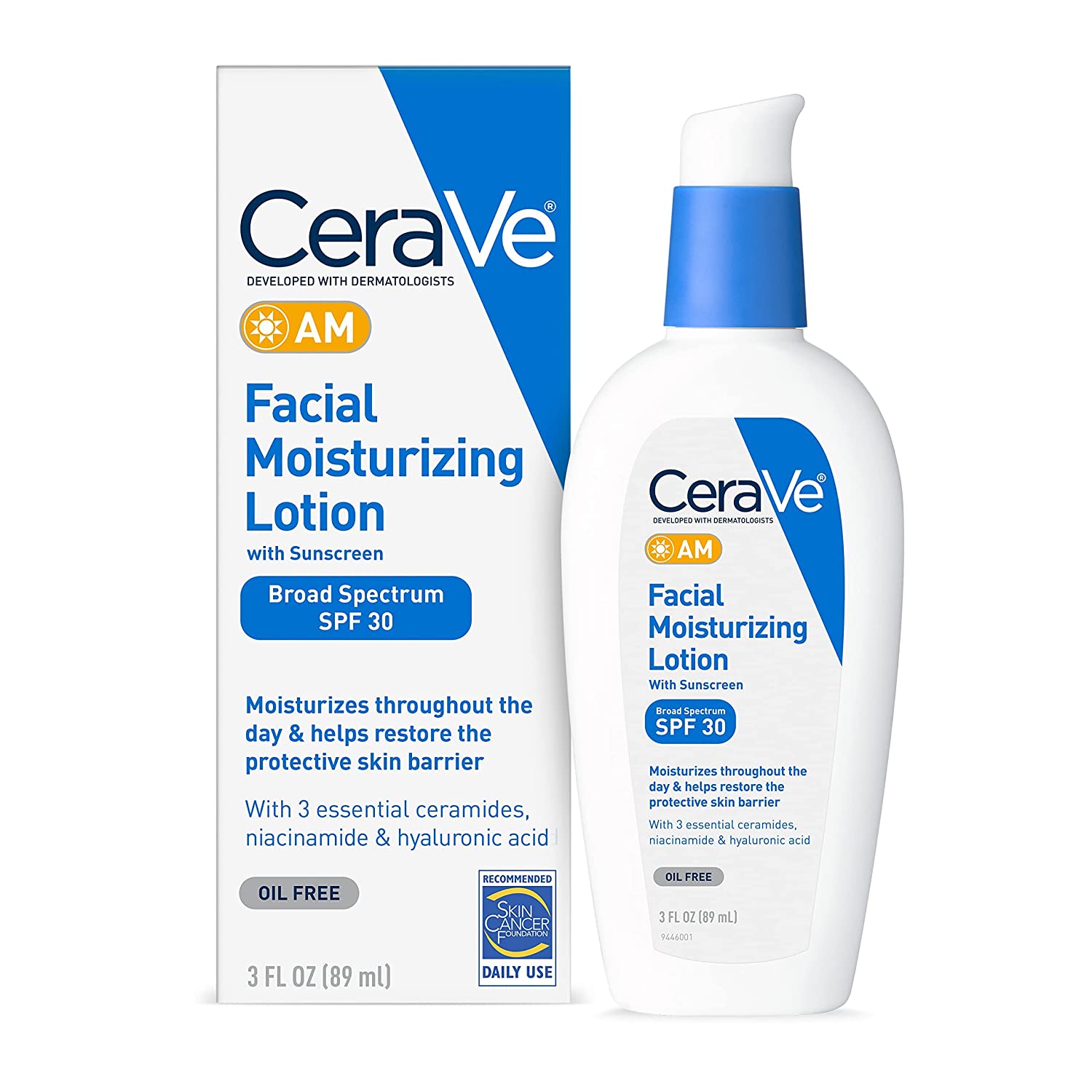 CeraVe AM Facial Moisturizing Lotion SPF 30
Final Thought
Pick an appropriate one for yourself is not an easy task which is based on your skin type. Both Cerave moisturizing cream vs lotion has their own pros and cons. But if you want something simple to use, we highly recommend you to choose a lotion one. Hope that our comparison above is helpful for your final decision. To know more about moisturizers, keep following our topics and we will be back with more interesting information.