Easy DIY Christmas Signs That Bring Joy To Your Home!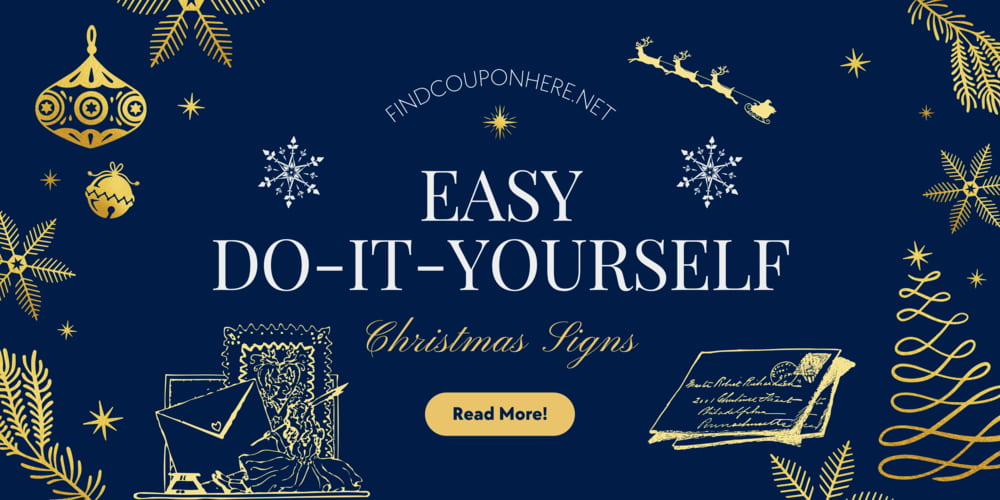 Christmas wreaths and garlands aren't the only ways to decorate your home for the holidays. These Christmas signs, which range from rustic wood to faux stained glass, from porch signs to painted signs, are perfect for both indoor and outdoor decorating. Believe me when I say that you will feel super accomplished once you've completed any of these crafts. To be honest, you might not even want to take these Christmas signs down when the season is over! They are easy to make, even your kids could do it, but don't let the simplicity fools you, when combined with other decoration, it will bring a delightful vibe to your home.
Why do we choose DIY Christmas signs?
Nothing warms your guests' hearts more than being greeted at the door with some holiday cheer in the form of Christmas signs. Words are more powerful than any wreath or sparkling lights. (though we recommend you throw those up as well!) The problem is that, at a time when our budgets are already stretched thin, Christmas signs, especially a larger wood one for the porch or yard, can be quite costly. Instead of spending a fortune on Christmas decoration items, you can always make your own and spread the message of holiday joy to your entire neighborhood.
While Amazon or Walmart has already started their Christmas Sales, the price for Christmas decoration items will certainly weigh big on your budget. Home Depot Christmas deals and Pottery Barn seasonal sales are also available for you to fill your cart with loads of home decor items. But, as you may notice, the designs of these Christmas decoration items change very little throughout each year, most stay the same with the change of only number. So why don't we make something different: a meaningful quote, a cute drawing, or just a wish for happiness… with our own hands. Trust me, just one go to get the needed supplies and they will be useful to you on other holidays too.
Super easy DIY Christmas signs that bring joy to your home
Wooden Christmas signs
To make those wooden Christmas signs, there are several things you will need to prepare before we dive in:
Prefabricated wooden sign

Paints

Quality stain brush

Pencil
You can start by applying a layer of paint if you don't like the original color of the wooden sign, then by using the pencil, write down or draw what you want to be on your Christmas signs. When the content is noted down, you can use a brush to paint it however you want. When you finish, you could use clear polycrylic to add a protection layer to your sign from moisture and dust that will ruin the paint.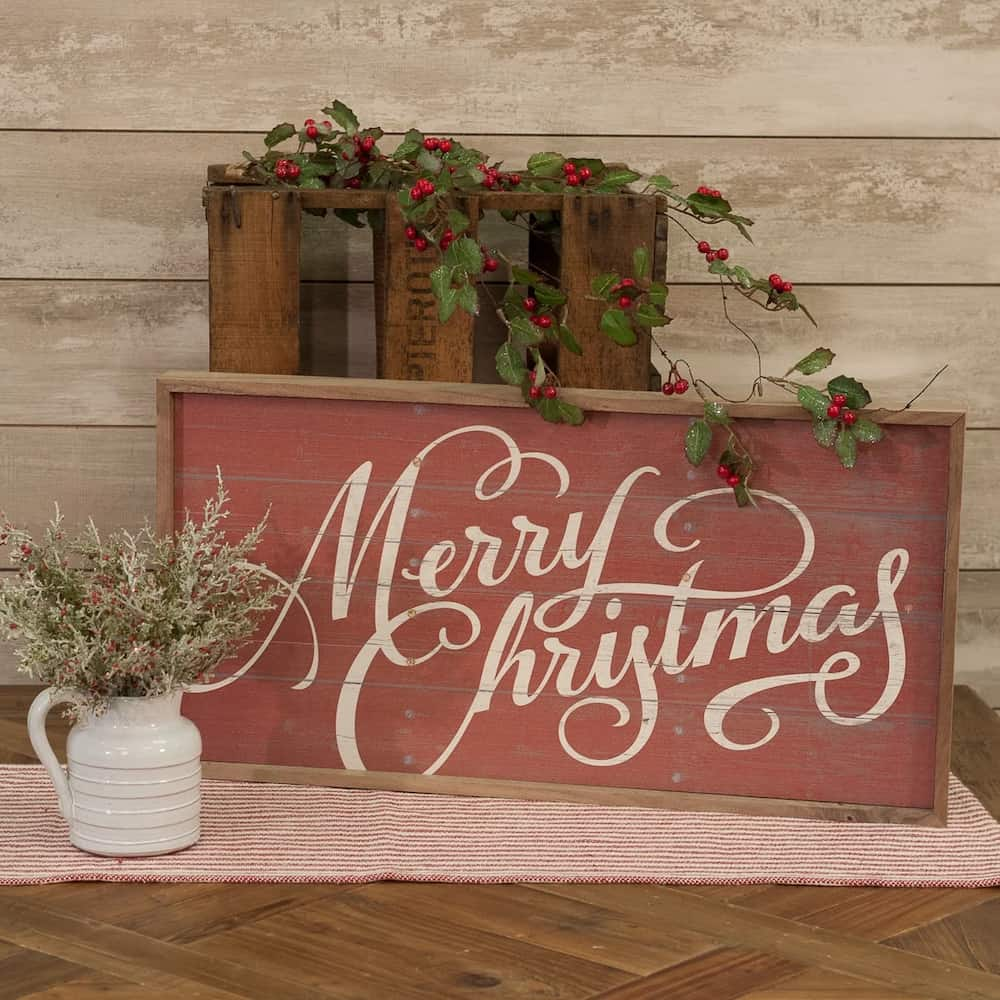 Christmas neon signs
With the Christmas neon signs, you will need EL wire (a lot of them), super glue, a pencil, and whatever sign's shapes or materials suit your need. Starting with using the pencil to write or draw your ideas and use the super glue to glue the EL wire to the draft you just make. Or, if you want more challenging ideas, use bendable wires of any kind to make the shape then glue the EL wire to it. With bendable wire, you can be creative with almost everything you have in mind, and save yourself a lot of money buying Christmas decoration items.
Check out these best permanent Christmas lights to impress your neighbors and bring colors to your home for a change this holiday season!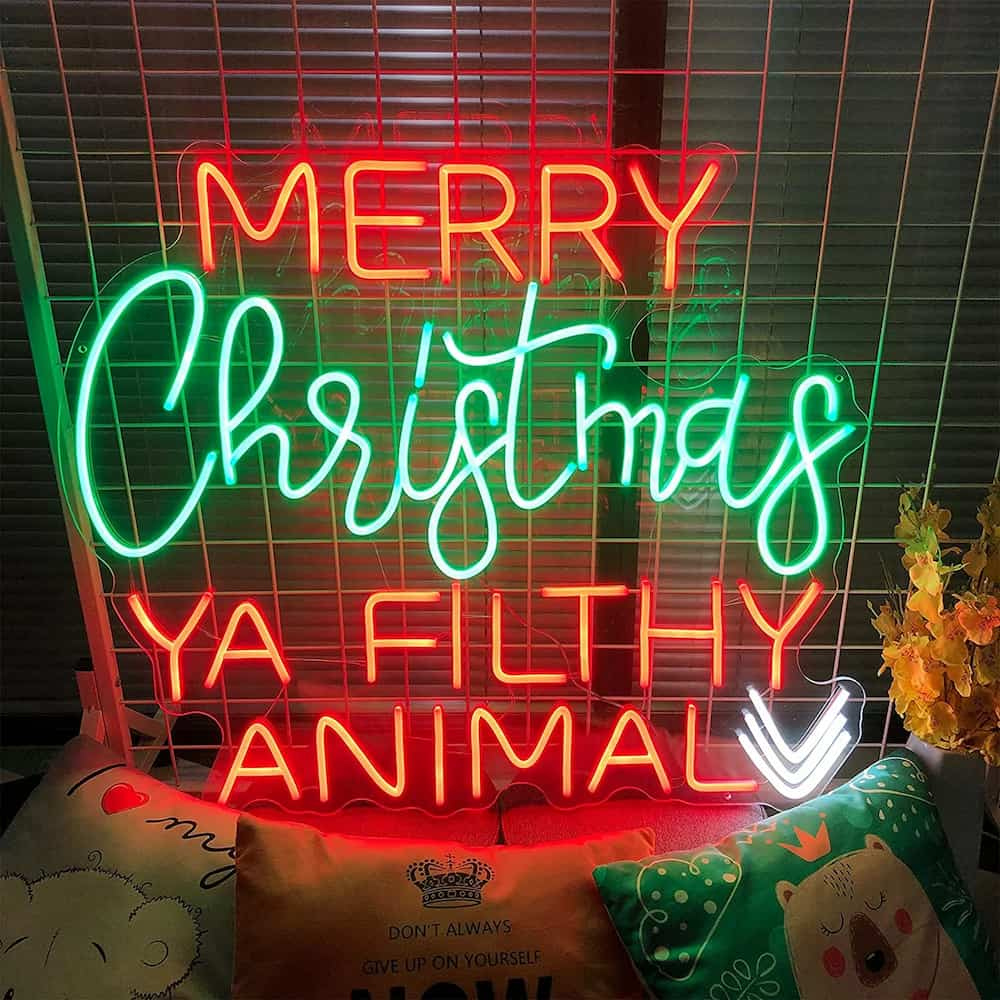 Some Christmas signs ideas for your list of decoration items
Tree and wreath farmhouse Christmas signs
This super cute craft will amp up the farmhouse vibes this holiday and is perfect for your Christmas yard signs. There are only 2-3 pieces (depend on how complicated you want them to be), and you can easily assemble them all with a hot glue gun. This Christmas sign is probably the simplest, quickest, and completely on-trend sign you'll ever make, and it's the cutest thing ever.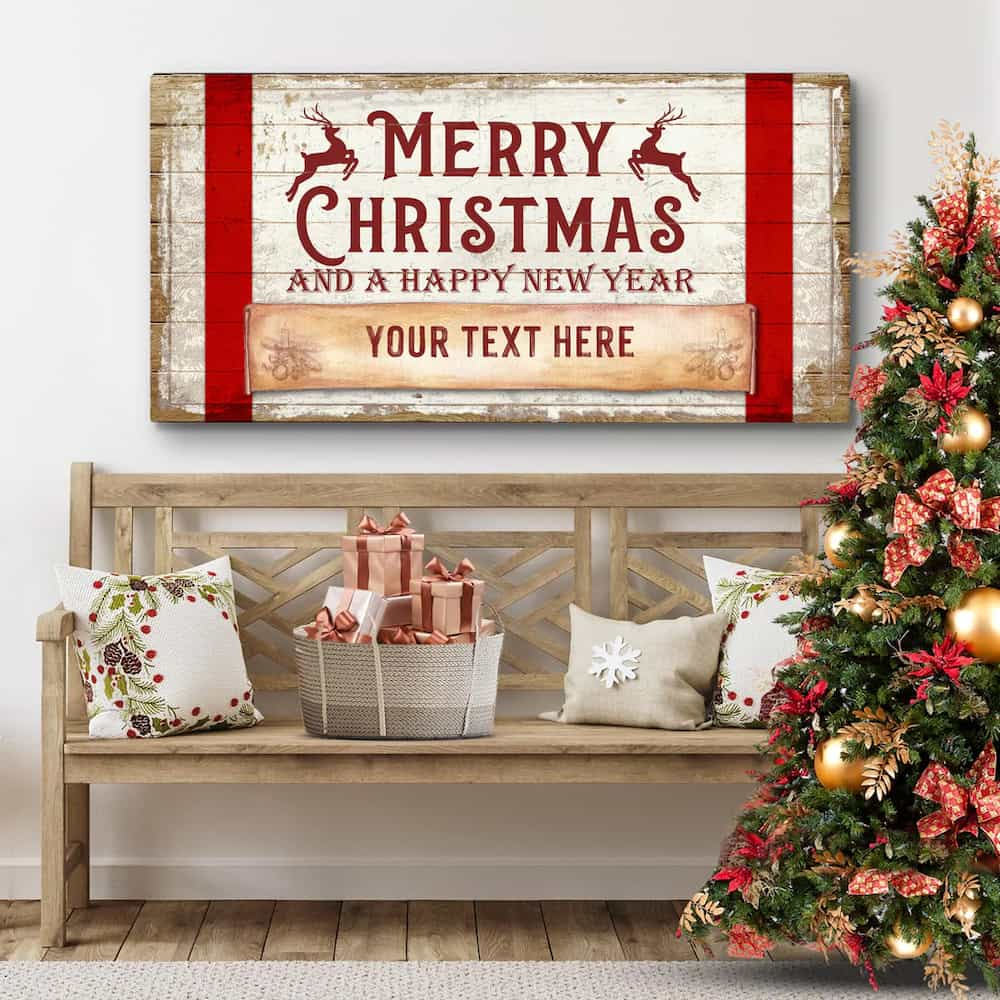 Directional Holiday Sign
Decorating your home with these directional Christmas signs is one of the easiest ways to bring forth the Christmas vibe. It'll make you feel like you're in a winter wonderland and even charm your guest. They are perfect as Christmas yard signs or Christmas porch signs, it completely depends on you.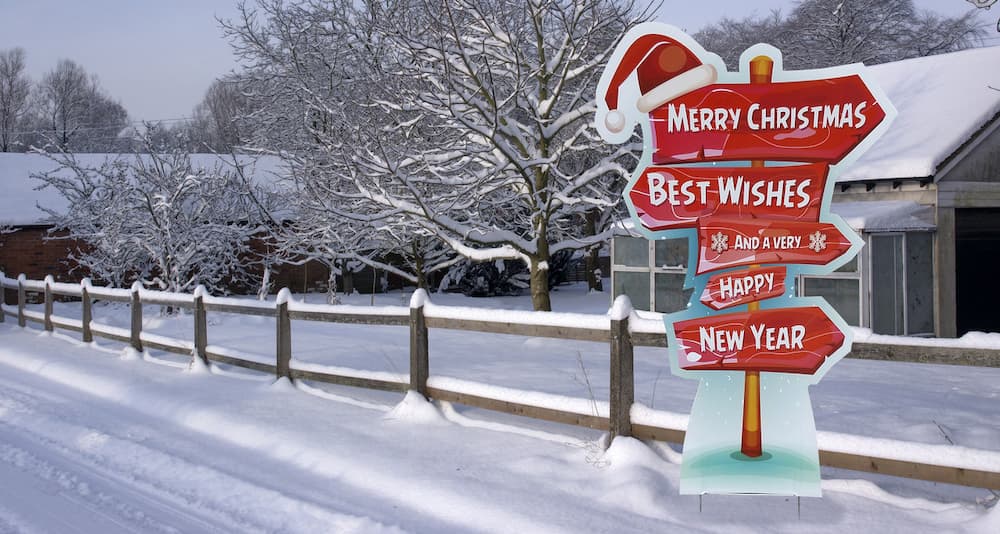 Red truck Christmas signs
The red truck with the pine tree in the back is a sign of Christmas delivered to your door. With the "Merry Christmas" wish (or anything you want to write) on it, this sign will surely welcome happiness to your home. Hang it on your front door and it is now your favorite Christmas porch sign.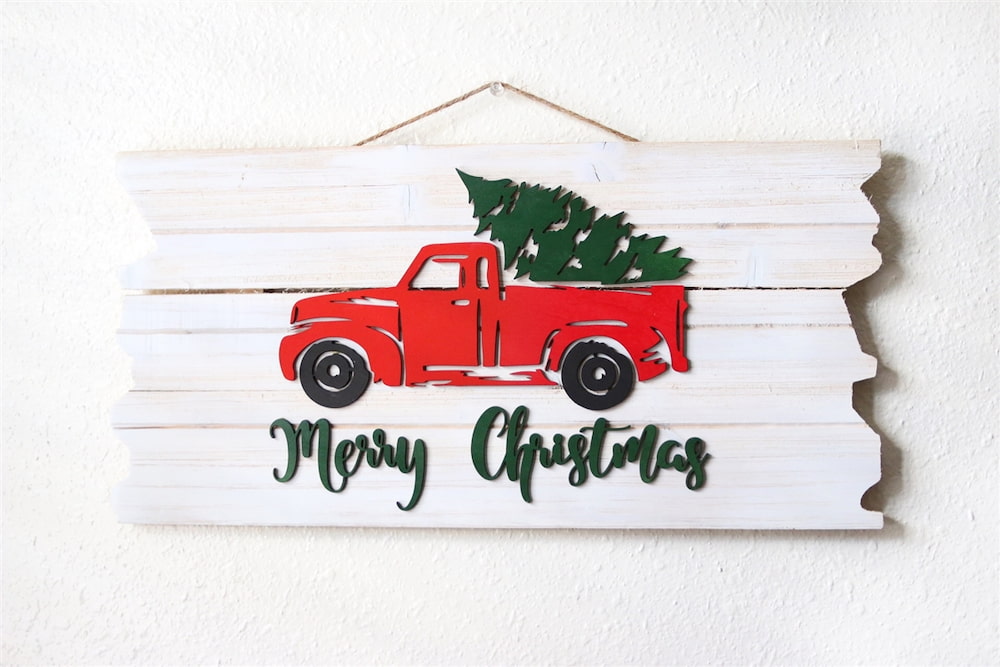 Funny quotes Christmas signs
It could be a pun or a meaningful quote, you can have it printed on wooden Christmas signs or write it down yourself, the quotes on Christmas signs will never get old and you can reuse them as many times as you want. You can even have dad jokes on the sign and be confident that they will crack a laugh out of anyone walking across.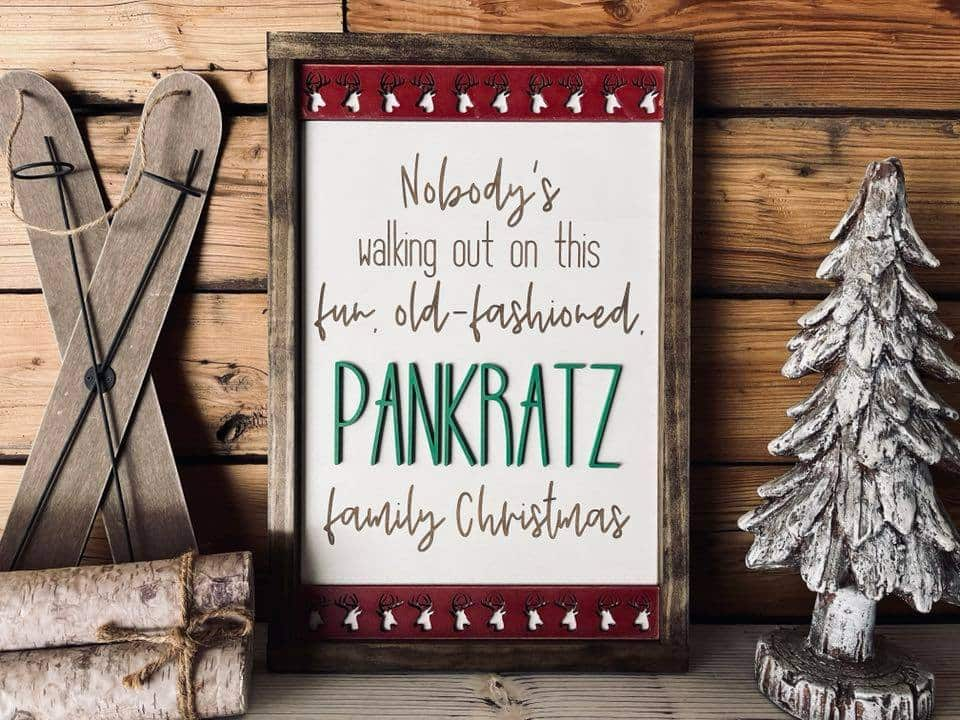 Where to buy supplies for your DIY Christmas signs?
Don't be afraid to be creative this holiday because Findcouponhere.net is here to help you through it. We update daily to get the freshest Christmas deals for you so you can create your own Christmas decoration items. For example, Big Lots has been opening for their holiday sale right after Thanksgiving, or Potter Barn Kids has their Christmas decor sale items available on the first day of December. You can take advantage of these deals to buy supplies for your DIY adventure, or if the process takes too much of your time and you'd better hunt for sale Christmas decoration items, our coupon codes will aid you through it.
Read more: Fulfill Your Christmas With Fantastic Menards Christmas Trees