How To Save Energy With These Home Tweaks?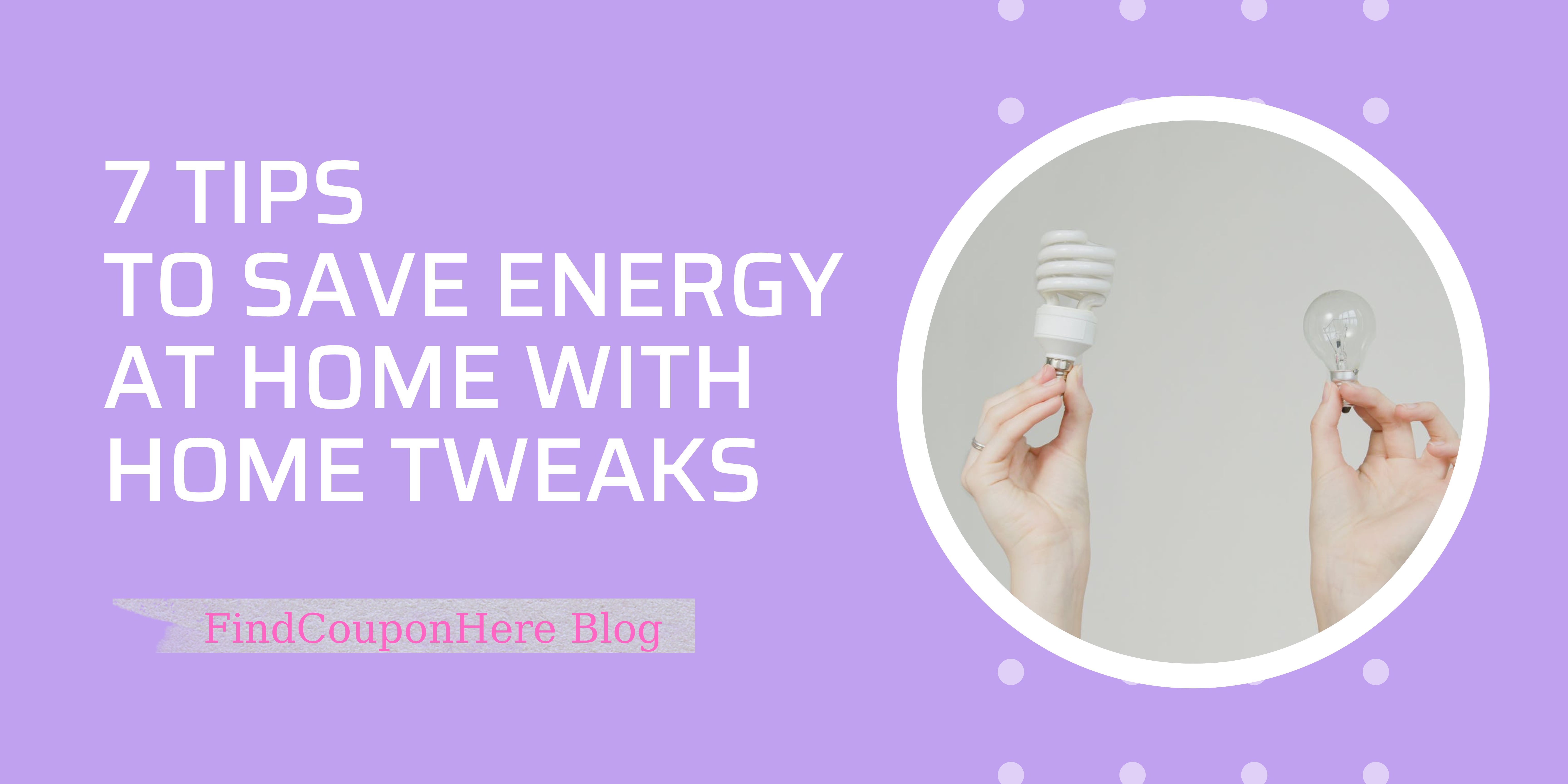 You are finding some ways to save energy for your house? It is not a difficult task if you know how to cut down maximum energy such as water and electricity in your kitchen, bathroom, or living room as well. Check 7 tips that we suggest you below to save energy at home with Home Tweaks ideas.
Save on hot water
Hot water is going to increase your energy costs if you haven't taken steps like using a solar system. You can save a lot of money if you only heat what you need when it is needed. You can save up to 70% on your energy bill by switching to an Instant Hot Water Tap from immersion.
You should consider getting an aerated shower head because it can help you use half of the water used by the traditional shower head and still get the same water pressure. What comes out of the shower head is half water and half air but no one is going to notice it because it is a powerful shower. You are going to get back the amount you spent in just a couple of weeks.
You can also consider getting something for your kitchen like a tap aerator is going to help a lot. Tap aerators for your bathroom are also going to help you a lot.
Run radiators more efficiently
There are ways to make sure you get the most out of the heat coming from the radiators. You can install Magnetic Radiator Reflective Foil on the back of your radiator because it is going to make sure the heat being produced is reflected back to the room so it doesn't get lost through your wall.
The Radiator Booster is another tool that you place on top of a radiator. When the radiator produces heat, the fan switches on before pushing heat to the center of the room. This makes the room reach the desired temperature faster and you don't have to leave it on for long like you normally would.
You should make an effort of bleeding your radiator regularly. Bleeding your radiator is important because it means it works to full capacity and you don't have to unnecessarily increase your energy bill. Many people forget about this and only remember it when the radiator is not working that well. You need to be organized and make sure this happens. You will have to search for a bleed fitting after a few months or go to the store and get a new one.
You can optimize the performance of your radiator using the Corgi Automatic Radiator Bleeding Valves. This is going to save you a lot of time and money.
Saving on lighting
It Is important to have energy-efficient bulbs because they are good for your pocket. You need to research as much as possible about the options in the market and then choose what works for you.
It is normal for people to do something before they fall asleep. Some choose to read as they wait for sleep, but they fall asleep before they turn off their lights. If you are such a person, you need to invest in a light timer. You just have to put it in a bulb socket and then place the bulb in the light timer. You can choose the time it will take to turn off the lights. It can be anywhere between five minutes and an hour. You can shop for these light timers at online retailers or stores to have the best prices. They are available at Amazon, Lowes, Ace Hardware, Argos, etc. Find any online store you want at our site to update on their discount codes and coupons and save a lot on your online purchases today!
If you prefer night lights, then you need to look for one that is energy efficient. There are a lot of options out there when it comes to nightlights, which means you will most likely find one that works for you. You are going to save a lot by choosing energy-efficient nightlights.
Get a mains-free option for your outdoor security lights because it is not going to add anything to your power bill. Solar has become a popular option because you just have to make an initial investment and then forget about it. They are efficient and produce a lot of light for your outdoors. Solar has become as good as the normal ones.
Solar spotlights are great for your garden and you can use them to illuminate your pathway or driveway at night.
Using dehumidifiers
Many people choose the plug-in dehumidifier when they want to deal with dampness indoors. Running such machines can increase your energy bills. A good option you should consider is a Pingi Dehumidifier which works the same way as the normal one but you don't have to worry about energy costs. All you have to do is charge it occasionally in the microwave.
Saving energy washing and drying
A good way of saving on cleaning and drying is to wash your dishes and clothes at lower temperatures. This is going to mean less energy used.
You should avoid the use of the tumble dryer. If you have to use a tumble dryer, then make sure you put Dry Cubes in your machine. This helps in reducing the drying time by 30%. It is advisable to use it only when it is a full load.
Saving energy in the kitchen
Clean the coils on your refrigerator and use a Fridge thermometer to make sure that both your freezer and fridge are operating at the right temperature. This ensures there is no energy wastage. The recommended temperature for a freezer is 17.7 Fahrenheit and for the fridge is 2.77 Celsius.
Boiling a kettle consumes a lot of electricity, with a typical consumption of about 3KW. The less you boil, the less time it takes for energy to be wasted. You don't need to boil a whole kettle of water if you just need one cup.
Another option is investing in an eco-kettle that comes with two separate water chambers. You will fill it to the brim but is only going to release what you need. This alone is going to save you a lot in energy bills.
Securing heating oil against theft
The price of oil has been on an upward trend and cases of oil theft in the country have gone up too. You need to have a security system that protects you from that. There is nothing worse than spending a lot of money on something and then having it stolen.
Related articles:
Step By Step Guide To Clean Pottery Barn Slipcovers
Hacking Tips To Decor House With Boho Wall Decals