Shockbyte Review: Shockbyte Promo Codes, Features & Pricing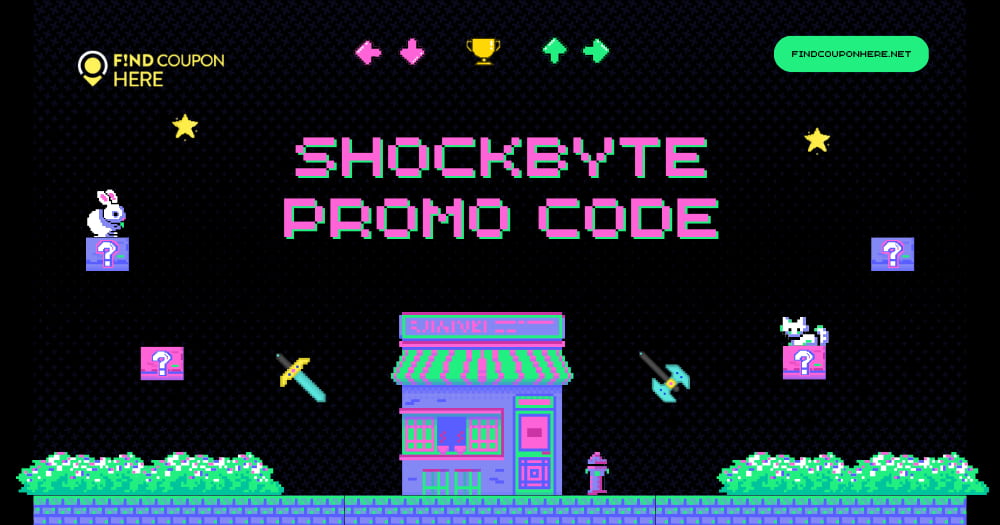 Beyond being one of the most played video games of all time, Minecraft has become a phenomenon in pop culture. Its ability to foster imagination and create new worlds is what attracts millions of players. If you are intending to rent a Minecraft server and build your own world, you might be considering Shockbyte. In this article, let's have a detailed review of Shockbyte and how to get a Shockbyte promo code with FindCouponHere.
Overview about Shockbyte
Shockbyte is a game server provider that offers premium quality services at an affordable rate founded by Mitch Smith. They made their debut in Australia in 2013 and then expanded to a few countries in Asia. Shockbyte is formed by experienced and dedicated gamers and developers - the ace in the industry.
Nowadays, Shockbyte has gradually become one of the best game server providers in the market. If you want to experience the best service, Shockbyte is a good choice. They partnered with global businesses and have built up one of the longest-running Minecraft hosts.
Shockbyte provide servers
Try out their Minecraft server hosting and other Game server hosting. Shockbyte supports a variety of Minecraft servers, such as CraftBukkit, Spigot, Forge, BungeeCord, Sponge, Snapshots, Vanilla, NukkitX, and PocketMine-MP.
Crucial details of Shockbyte's gaming servers
DDR4 ECC RAM

Raid 1 NVMe SSD drives

Intel Xeon E5-1650v4 (4.00GHz) CPU

1 Gbps network port
As a person who used to try their products, I'm attracted to and impressed by how they work. Use a Shockbyte promo code to make sure that you can use these products at a lower price.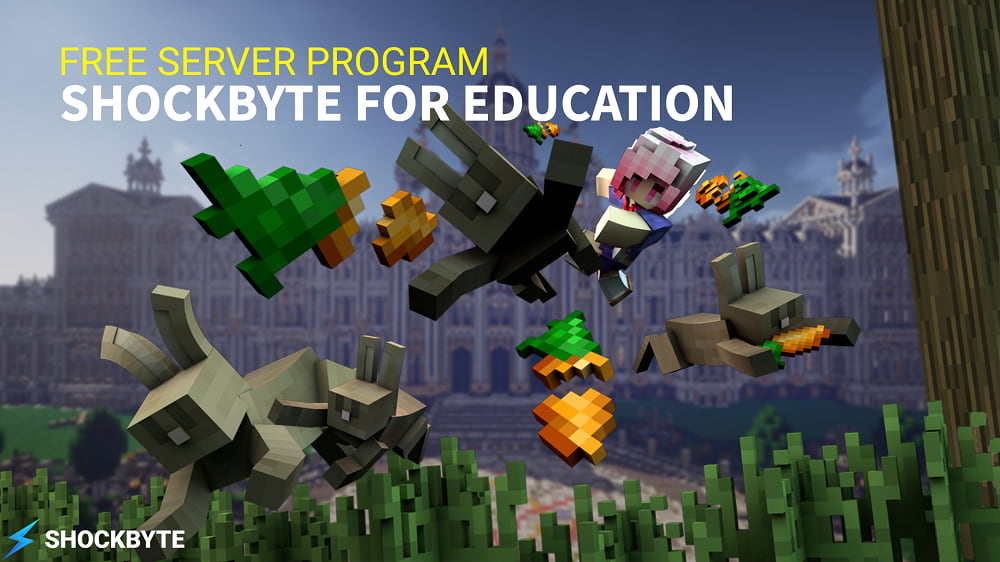 Review of Shockbyte features
Pros
100% uptime: Their SLA covers all network outages.

Guaranteed DDOS protection: You can rest assured knowing that Shockbyte is responsible to stop all the attacks.

Instant setup: With the Shockbyte automated system, your new server can be activated instantly.

24/7 support: If you have any problems in setting and using, you can contact the Shockbyte support team anywhere - anytime.

Shockbyte free subdomain: You can create a custom IP with your server name without an extra fee.

Fast SSD Storage

Unlimited slots

Multiple server locations
Cons
Not providing dedicated servers

Only offers a 24-hour refund guarantee

The service team responds to several requests a little late
Shockbyte Plans & Pricing
The price to rent a Minecraft server starts at $2.5 per month. Meanwhile, you can rent a game server at $14.99 per month. For more detail, please look at the snapshot below. For higher demands, you can ask for your custom plan. As we research and compare, this price is quite fair and competitive. The best thing is you can get access to these plans with discounts and exclusive deals by applying the Shockbyte promo code before making a payment.
Even though you get unlimited slots on every plan, Shockbyte still advises a certain number of slots you shouldn't go over for the greatest performance.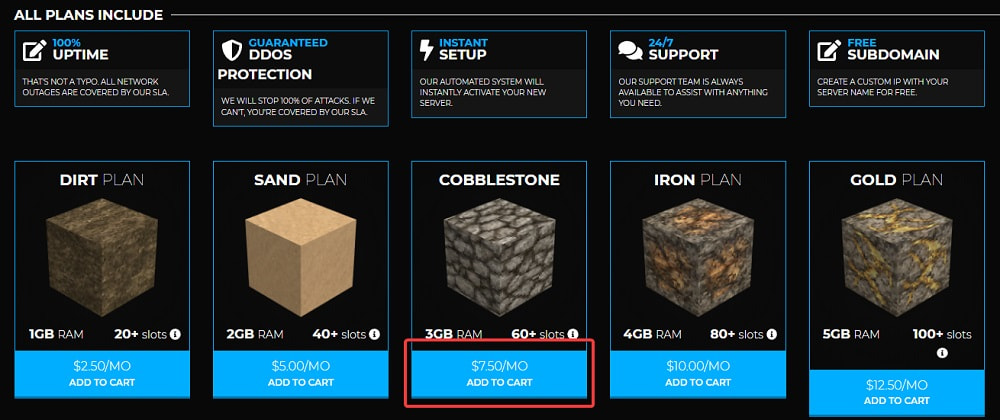 About Shockbyte Promo Code
Even when Shockbyte offers everything at a reasonable price, they still release Shockbyte discount codes and deals at special events. With promo code Shockbyte, their customers can save a lot while enjoying their gaming time. Now let's take a look at the Shockbyte coupon code list that you might be interested in:
25% off promo code for Shockbytes sitewide

Shockbyte 50 off code for Minecraft Server Hosting

10% off Shockbyte hosting promo code

Free Game | ARK Survival Evolved

Shockbyte lifetime discount 33% off
During this time of the year, Shockbyte is always generous to offer countless holiday deals to save your wallet. Find these awesome deals and utilize them before they expire. Check out Shockbyte deals on their website or search for "Shockbyte promo codes Reddit". On our website, you might not find a Shockbyte promo code. But instead, enjoy our discounts on games, especially the Gamivo SMART discount code and Gamestop Promotional Code Generator to upgrade your gaming experience.
How To Redeem Shockbyte Promo Code?
If you are having a Shockbyte discount code in hand, don't hesitate to use it instantly. Shockbyte made it easy for users to save and use the latest Shockbyte codes. Follow these quick steps to redeem a promo code Shockbyte and get exclusive deals:
Step 1: Visit shockbyte.com and choose a server you are interested in.
Step 2: Scroll down to choose a suitable plan and choose a billing cycle (Monthly, Quarterly, Semi-Annually, or Annually)
Step 3: Click Continue to move to the Payment page. Apply your valid Shockbyte promo code into the promotional box and receive your benefits
Step 4: Move to the Checkout page. Sign in with your email address and make your payment. That's how you finish your order.
With the 4 simple steps above, now you can save the most when gaming with Shockbyte coupons.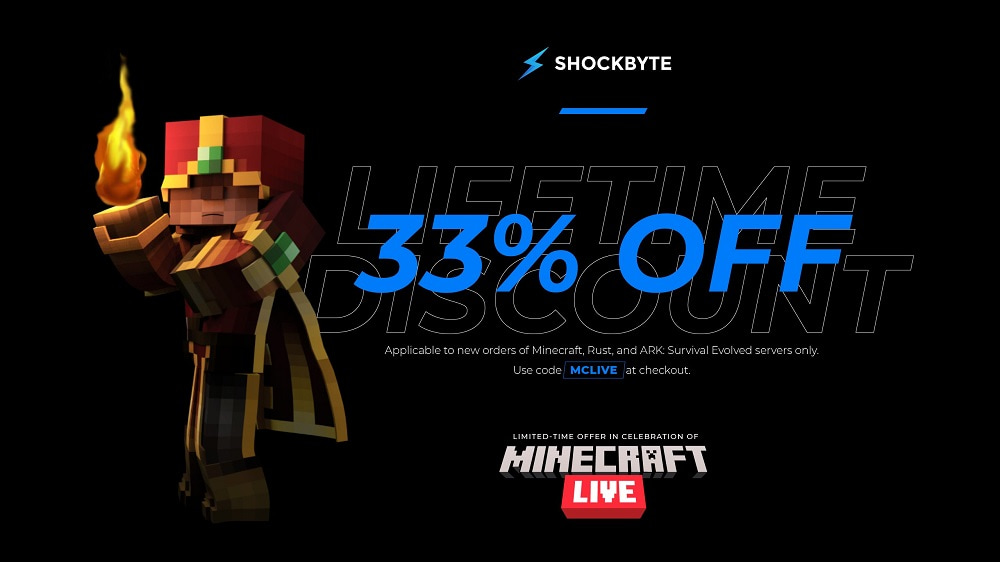 Shockbyte FAQs
Is Shockbyte fast?
Shockbyte is one of the few hosts that use NVMe SSDs - which are six times faster than traditional SATA SSDs. We all know that disk speed is crucial for the best Minecraft server performance. To sum it up, they outperform the competition by a factor of six.
Can students get a Shockbyte promo code?
The Shockbyte webpage occasionally offers some student discounts to help you save more on a few occasions. Check out the Shockbyte site on special events.
Is Apex or Shockbyte better?
Both Apex and Shockbyte provide their customers with features that are roughly comparable. However, Shockbyte outperforms Apex Server Hosting in pricing packages. Shockbyte provides a server with up to 20 players and 1 GB of RAM for a relatively lower cost.
How long does a Shockbyte server last?
If you do not pay within 30 days, your service will be canceled, and your data will be deleted from Shockbyte servers.
Summary: Is it worth buying Shockbyte?
Pricing, features, no downtime, backup, speed, and customer support should all be taken into account. From my own experience, I believe Shockbyte is a worthwhile purchase. How bout you? Have you ever used Shockbyte and Shockbyte promo codes? And if yes, do you think this is a worthy Minecraft server hosting? Leave a comment below and tell us about your thought.