Biscuit Books - A Great Way To Introduce Reading To Kids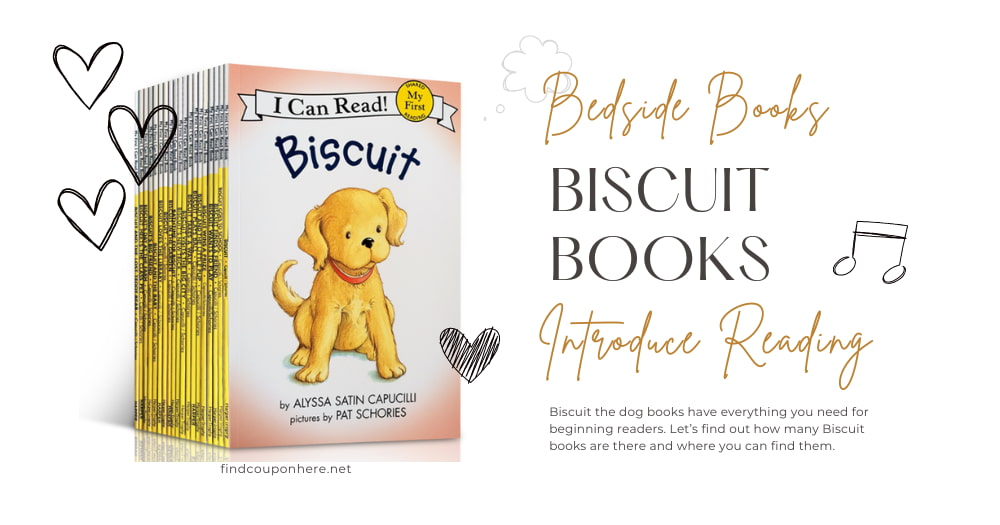 If you are looking for a book to introduce reading to your children with lively illustrations, then Biscuit Books are definitely an amazing choice. This book has been translated into numerous languages and became the bedside book for many kids. Biscuit the dog books have everything you need for beginning readers. Let's find out how many Biscuit books are there and where you can find them.
Before starting, don't forget to follow FindCouponHere to explore more related content and get countless discounts on books.
Biscuit Books - Bedside Books For Kids
Biscuit the dog books are a series of children's books written by Alyssa Satin Capucilli and illustrated by Pat Schories. Alyssa Satin Capucilli is the author of the first Tulip and Rex story, Tulip Loves Rex, along with the bestselling Biscuit books and many other cherished books for children. She resides in a Hastings-on-Hudson, New York, home that is stockpiled with books. Meanwhile, The adorable puppy Biscuit is based on Pat Schories' own dog. She is also the writer and illustrator of He's Your Dog and Mouse Around alongside having pictured all the Biscuit books.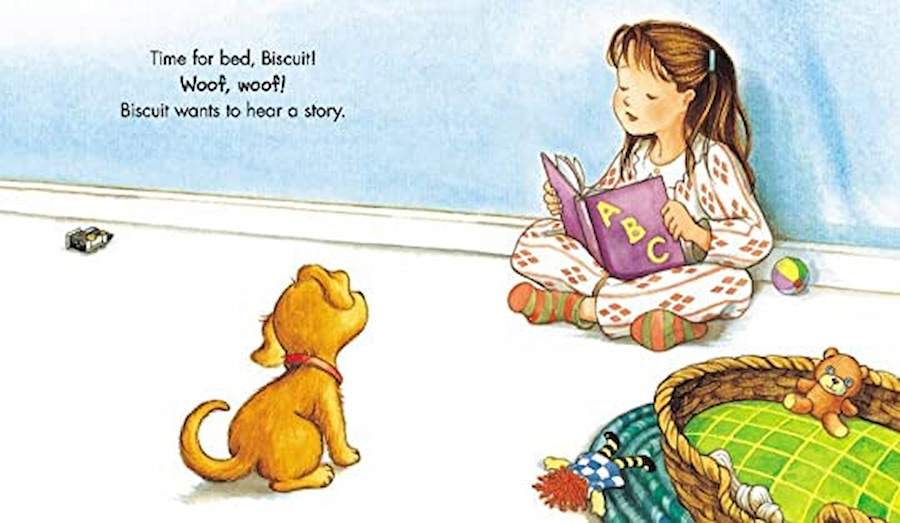 Biscuit book selection is a must-read series for beginning readers. The majority of Biscuit books' reading levels are from Level E-G / DRA 8-12, "Bathtime for Biscuit" is a Level C / 4, and absolutely perfect for readers at this level! For kids three to six, it serves as a supplement to activity books and a joyful method to improve reading. In Amazon, the Biscuit's Neighborhood ranked #4 in Children's Pet books and #29 in Children's Dog books. It also gets a rate of 4.9 out of 5 with many compliments such as "great for introducing reading", "my kids love Biscuit", "beautiful expressive illustrations", etc.
What Are Biscuit Books about?
Biscuit Books are a lovely and cute story about Biscuit - a tiny yellow dog who never gets enough cuddles. The world of Biscuit will be revealed to your kids as they watch this series. Your kids will learn a lot about Biscuit's friends and neighbors, as well as about the holidays that Biscuit celebrates.
The mischievous antics of Biscuit, the engaging storytelling, and the straightforward illustrations make Biscuit books a good option for beginning readers. List of all Biscuit books including 20 books, all of them are lively and worth reading. My recommendations are "Biscuit Finds a Friend", "Biscuit Goes To School", "Good night Biscuit" and "Biscuit Big Book".
Where To Buy Biscuit Books?
Amazon
Absolutely a great place to purchase your favorite books. You can find the Biscuit book collection in this marketplace. Not only do you shop at a discounted price, and get 3 for the price of 2 but you also are able to return your order within 2 months.
Explore how to change delivery instructions on Amazon and also utilize our Amazon promo code 20 off anything so you can get a "Bathtime for Biscuit" or "Good night Biscuit" for your children at such a good price. In this world's largest online marketplace, you don't have to worry about the price or the lacking pieces in the Biscuit book collection.
Alibris
The most popular website for independent booksellers of both new and used books, music, and films, along with rare and collectible things, is Alibris.com. Shoppers will have access to more than 175 million items from thousands of suppliers worldwide. You can also use our Alibris coupon $1 off to get a discount when shopping for cute Biscuit books. Visit Alibris' website to explore even more benefits today, or wait until Black Friday and take advantage of tons of Black Friday discounts with exclusive deals on books and novels.
AbeBooks
AbeBooks is a heavenly place for people who are fond of books, fine art, and collectibles. It has become an Amazon subsidiary after being purchased by Amazon in 2008. After visiting their website, simply enter "Biscuit" in the search box, and you can easily access Biscuit books in order. And don't forget to earn more savings by using our AbeBooks coupon 10% off to instantly get money off your total cost at the Checkout.
And guess what? There is even more to explore. A list of books following the topics or introducing to you some must-read books to satisfy you no matter what you are looking for. Romance, devilish, self-help, poetry, etc.
Book Depository
One of the best international book retailers with a special deal: more than 20 million books with free shipping worldwide (no minimum spend). With offices in London, Gloucester, Madrid, Cape Town, and Chennai as well as fulfillment centers in the UK and Australia, Book Depository ships loads of books daily to more than 120 countries while offering prices in 37 different local currencies. Their goal is to make books more accessible, affordable, and available to everyone.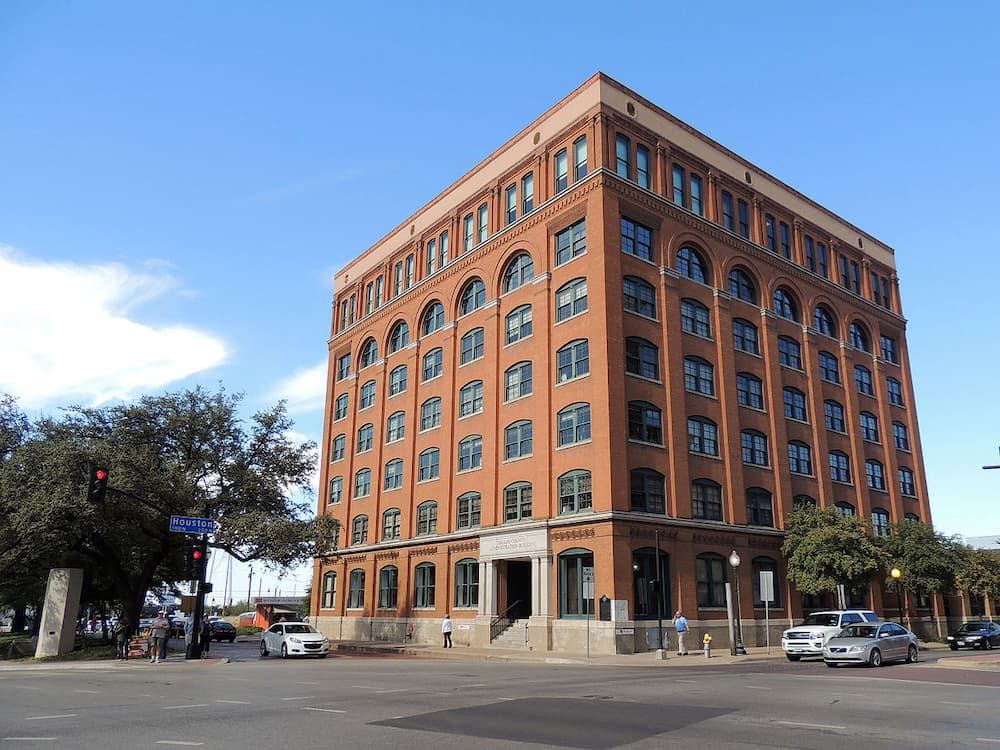 Biscuit Books Online Free
If you are still wondering if this book is worth buying or not, let your children try reading Biscuit books online pdf. In the long run, this might not be good for their eyes, but you only need to second to know if these books are suitable for your baby or not.
Visit a pdf version on the internet and get a quick review of how this story about Biscuit goes. You can choose to print these versions for free and give them to your kids. However, the image quality, as well as the color, can't be as good as the original version. So we recommend you purchase Biscuit books at bookstores or on the websites above and use our discounts on books to save more.
Summary
To have more choices in purchasing Biscuit books, you can refer to this list of the best websites to buy books online. And that's everything we want to share with you about this series for kids. Leave your comment below if you want to share your thoughts or have any recommendations for us. We hope you have a nice day!