Tips For Washing And Caring The Pottery Barn Kids Backpack
The backpack is a very necessary item for children to store food, school supplies, or books. You can buy good quality and beautiful backpack at Pottery Barn Kids for your child. After a period of use, you should clean the baby's bag to make sure the bag is cleaner and more durable. It is very important to wash the Pottery Barn backpack properly and regularly. If you've read this far, you're probably in need of a specific method. Read the step-by-step instructions and Pottery Barn Backpack care tips.
Understand Pottery Barn Backpack Materials
It depends on the material, but most nylon or canvas backpacks may be washed in the washing machine. If your Pottery Barn backpack, for example, has leather trim, you shouldn't wash it in the washing machine. According to the manufacturers, most bags from Pottery Barn Kids are made of rugged, water-resistant 600-denier polyester. All backpacks have curved and padded adjustable straps to ensure a comfortable fit. Extra padding is provided by a padded back panel. Apart from the bright and wonderful designs, the backpacks come in two sizes: small and large, which are perfect for children of all ages and demands.
How To Clean Your Pottery Barn Backpack At Home?
According to the information on the Pottery Barn Kids website, you can clean your backpacks with a damp and white cloth. But this just helps you frequently clean the backpack. For the more stubborn stains, you cannot solve this with just a damp cloth. It is recommended that you wash your item no more than 1-2 times a year, as the process can be very damaging to the bag if not done correctly. Use a moist cloth and some mild soap to remove any new stains as soon as you detect them. Follow the following steps to wash the Pottery Barn Kids backpacks. This way can be applied similarly to other brands as long as you know the product's materials.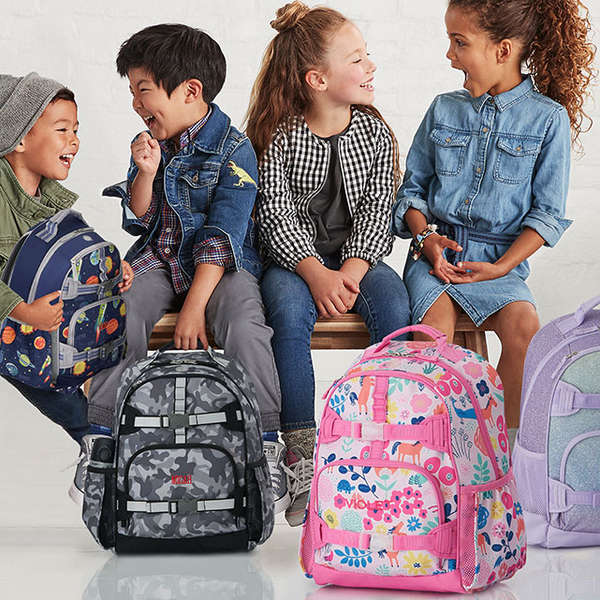 Step 1: Pre-treat any stains on your bag with a stain remover. Pay attention to both interior and exterior stains. Use some stain remover with a soft brush or toothbrush to wash away stains. Let it sit for about 30 minutes.
Step 2: Spray the backpack with Shout before putting it in the washing machine by dissolving some oxyclean in warm water in a sink and soaking it for around 6 hours.
Step 3: Fill the washing machine with a small amount of detergent. To make removing stains simpler, add additional oxyclean to the drum.
Step 4: Select the Double Rinse option.
Step 5: Air dries the backpack in a cool, dry location at an appropriate temperature.
Tips For Caring And Cleaning Your Backpack
If the bundle contains a metal frame, remove it. All of the pockets should be unzipped.
Any threads near zipping areas should be cut away so they don't get snagged while washing. Hand-wash any detachable straps, pockets, or smaller bags separately.
To avoid straps and zippers getting stuck inside the machine—and harming the machine's internal walls—turn the bag inside out or store it inside a pillowcase or laundry bag.
Unless your backpack, lunch bag, or reusable shopping bags are made entirely of cotton, do not put them in the dryer. The extreme heat of a dryer can melt, shrink, or deform the outside materials of insulated bags, destroying the inner structure.
You can clean your backpack without washing it as well. Place a tiny bit of baking soda in the bottom of the pack and let it open in the sun for the entire day.
You should disinfect your backpack frequently with pine oil, disinfectant wipe, or phenolic disinfectant in warm water.
>> See Pottery Barn Kids backpack collection
Can You Wash Your Pottery Backpack By Hand?
The above instruction is what you need to prepare and do to clean your backpack in a washing machine. You completely wash your Pottery Barn backpack in a washing machine because most backpacks are made of polyester. For detailed information about the material of each backpack, you can see it on the website. In case there is no way but you have to wash by hand, fill the tub or large sink halfway with lukewarm water, then add roughly 1 tablespoon of laundry detergent. Allow 15 minutes for the backpack to soak, then swirl it in the water to remove the soil. Drain the soapy water and thoroughly rinse. If the fabric is too hard to wash and rinse, you can use a brush to wash and choose the lightest rinse mode for the washing machine, and put the backpack into it.
Go to our blog to read more useful information, interesting news, and amazing tips when shopping online. Do you want to save your budget when buying from an online store? It is easy to get discounts and exclusive coupons at findcouponhere.net. Enjoy your reading time and thanks for supporting us!
Related articles:
Pottery Barn Mason Dinnerware Collection Reviewed For 2022
How Is Pottery Barn Buchanan Sofa Collection? PB Buchanan Review