Tips On Choosing Men Clear Glasses For Any Face Shape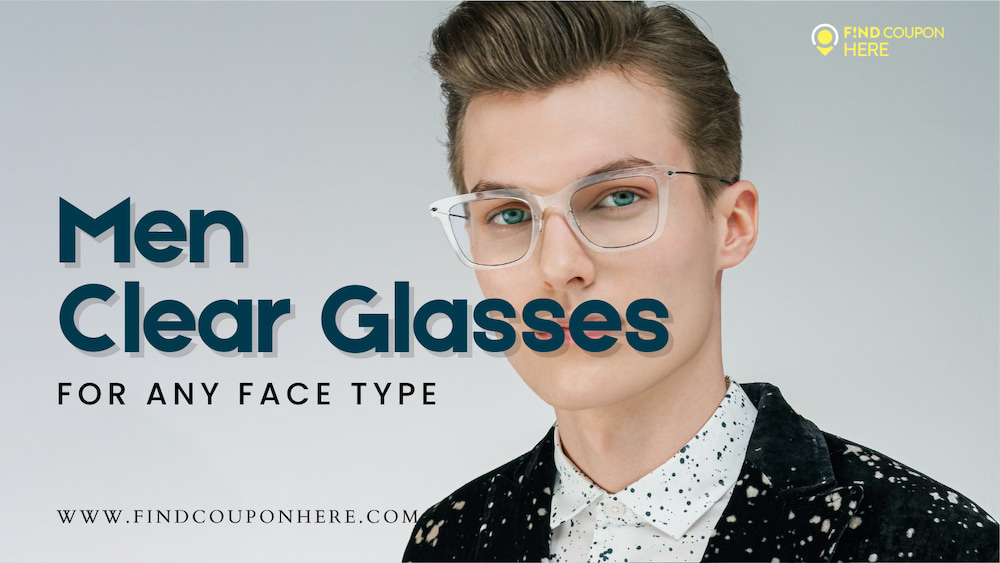 Clear-framed glasses have been becoming a popular type of eyewear among fashionistas. These transparent frame glasses add a sense of freshness, modernity, and personality. You won't have to worry about the frames will hide any unique facial features on your face. So, what makes these eyeglass frames so unique? Scroll down as FindCouponHere will provide you with all you need to know about men clear glasses you might want to have.
What are transparent frame glasses?
Glasses are a familiar accessory for many people. It is not only just a tool to treat eye weaknesses but also a very popular fashion accessory. Frames can be made from many different materials with all kinds of colors and designs, to suit the fashion styles of even the most fastidious gentlemen. In recent years, the trend of transparent glasses for men has risen to become a must-have accessory any man should have.
Transparent frame glasses are glasses whose frames are made of clear or colored plastic with high transparency. Usually, this model is used as a fashion accessory to enhance the youthful and stylish features of the wearer. With transparent plastic material, the glasses will be lighter and more durable. Unobstructed facial features will always give men confidence.
Top Men Clear Glasses For Any Face Shape
To assist you in narrowing down your options, we've dived into the internet for the most popular and highly rated men clear frame glasses on every online retailer and branded store. Here's what we discovered.
Ray-Ban Clubmaster
When looking for transparent glasses for men, the options might be a little limited. Fortunately, Ray-Ban has something a little different to offer. The Clubmaster frames by the brand combine classic wire-rim glasses with clear frame glasses. Even better, these clear frames have adjustable nose pads, which is uncommon for this style. Choose between standard and large frames for a picture-perfect fit with Ray-Ban top-rated collection.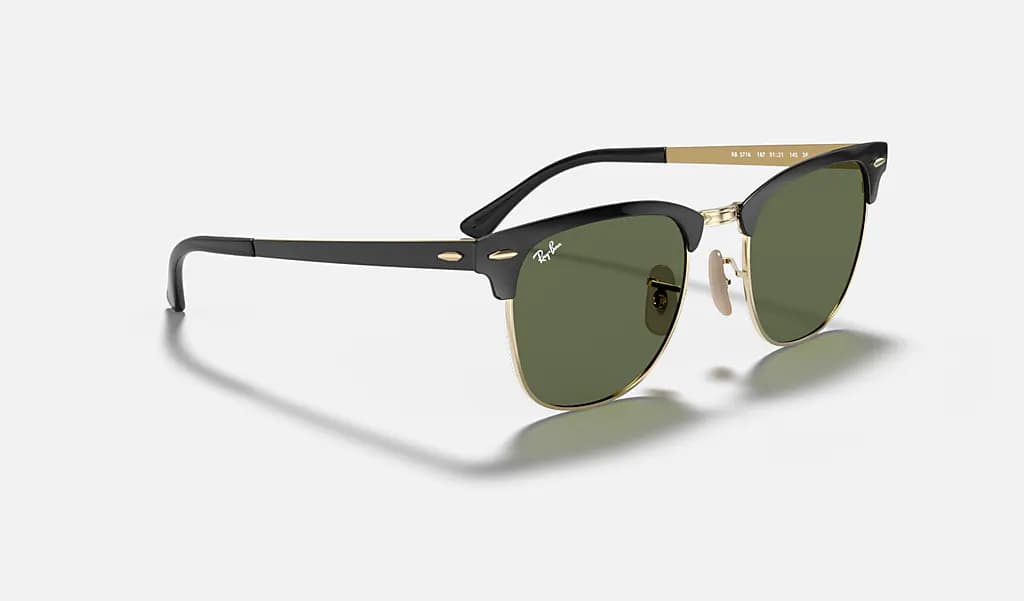 TIJN Blue Light Blocking Glasses
Blue light glasses from TIJN are unisex. With a round shape and a slightly horned rim, the frame is larger than other men clear frame glasses. They also have spring hinges that allow the temples to flex beyond a 90-degree angle. This increases durability and gives you more options if the frames don't precisely fit your face.

Read more: Top 10 Circle Glasses Mens With Prescription Lenses
Warby Parker Haskell
You'll like their men glasses designs as well as their famous women's glasses. Warby Parker's Haskell frames are for men with style. They are made of polished cellulose acetate, which is clear with a hint of a tortoiseshell pattern on the inner rims. You will need to have your outfits on point for these transparent frame glasses. There's a good chance you'll find a good fit with slim temple arms and frames available in three widths.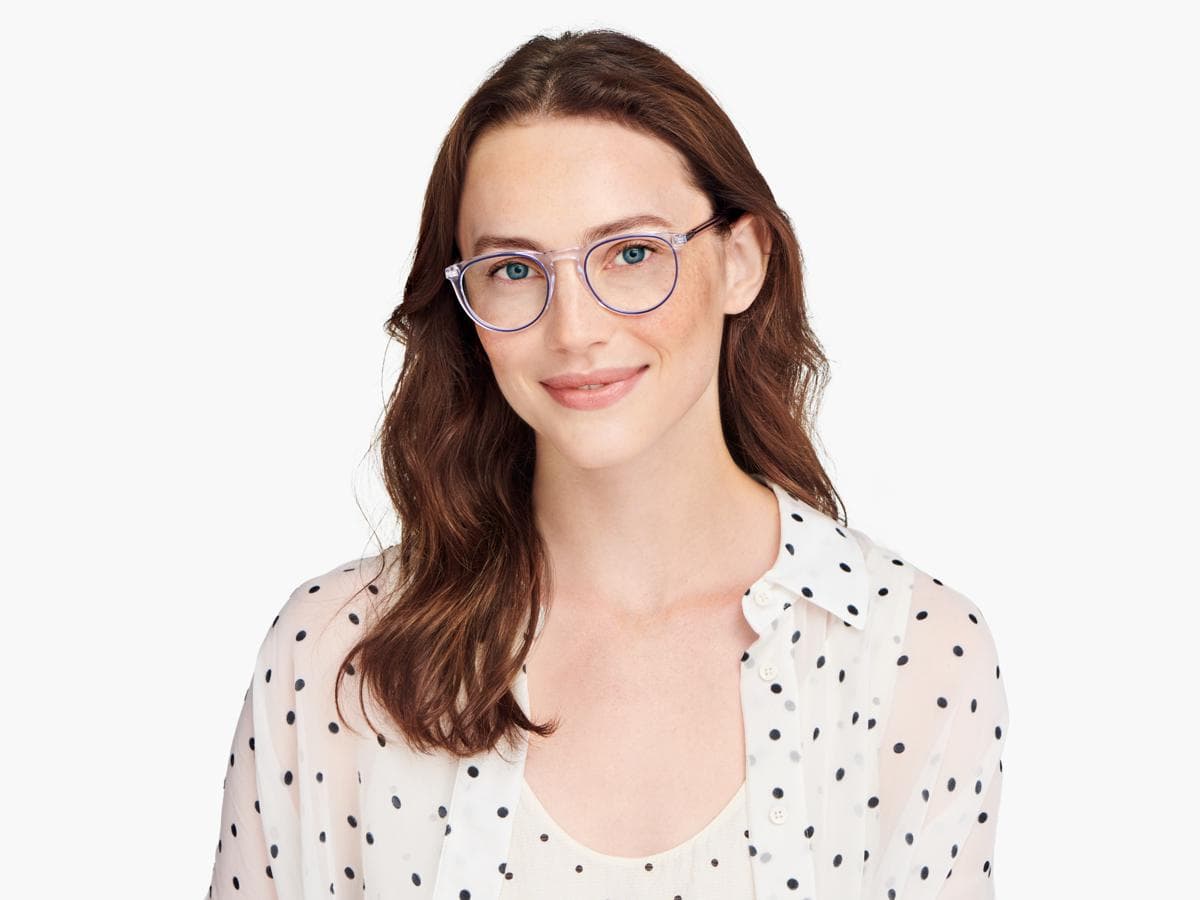 Warby Parker Felix Crystal with English Oak Temples
Warby Parker is best known for its Home Try-On program, which allows customers to try on five different pairs of glasses at home for five days before purchasing a pair. These men glasses designs are suitable best for office workers or students, who want to go to work or to school in style but don't want to draw too much attention.
These cellulose acetate men clear frame glasses feature a sophisticated twist on the trend: wooden temples. It's an ideal look for fashion-forward eyewear that still stands out.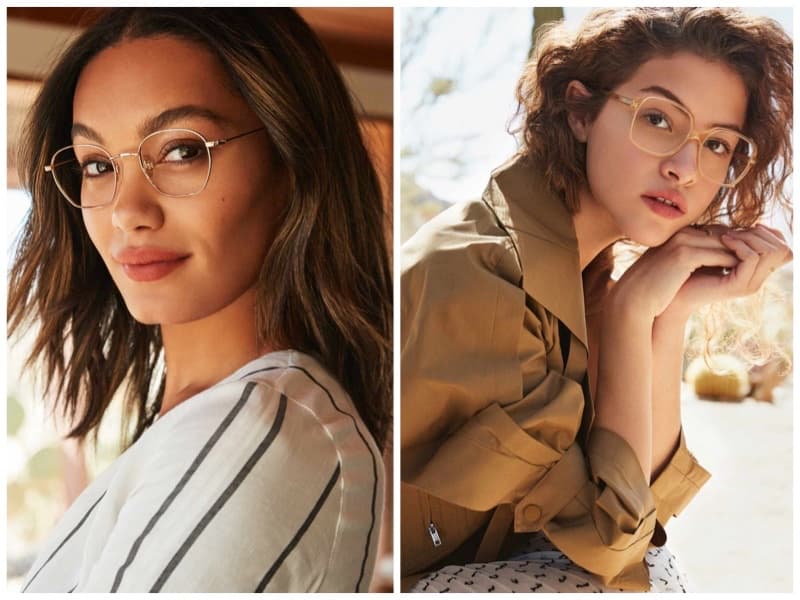 COASION Blue Light Blocking Glasses for Women
COASION's transparent glasses for men house this pair of blue light-blocking lenses just for you. Blue light glasses like these claim to reduce digital eye strain, which may also aid in the treatment of insomnia. These transparent frames with metal temples are extremely durable. However, noted that some customers reviewed that these frames are best for people with smaller faces.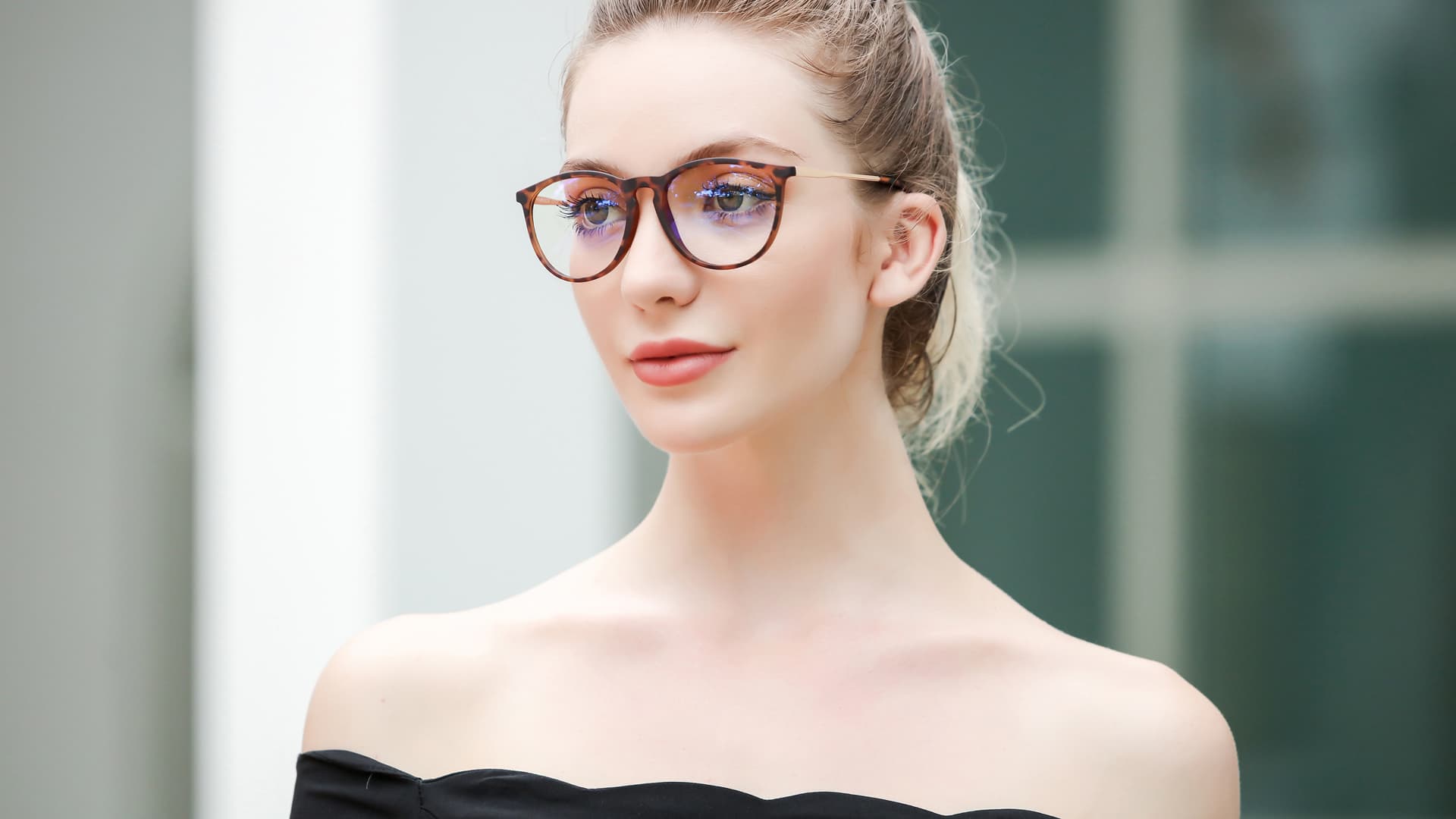 See more: How To Choose Stylish Women's Glasses That Are Suitable For Your Face
SOJOS Retro Semi-Rimless Half Horn Rimmed Eyeglasses
Despite the fact that these SOJOS frames are considered women's eyewear, both male and female reviewers praise the clear frame glasses' style. Soft silicone nose pads are also adjustable so you don't have to worry whether they will fit your face. The distinct clear frame set atop gold metal rims sets these apart from other men clear glasses and makes them look more luxurious.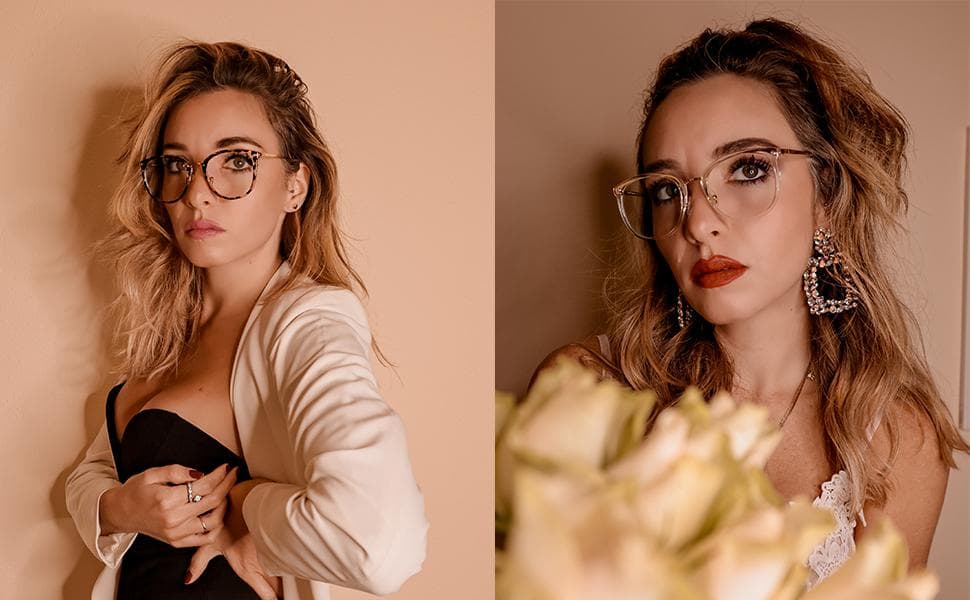 Zenni Optical Rectangle Glasses
Zenni is your best bet for reasonably priced men clear frame glasses. This pair of transparent frame glasses costs less than all the brands above but still have one of the highest recommendations on any review site.
This pair has a clear frame, basic prescription lenses, and an anti-scratch UV coating. You can try it on yourself during Zenni Optical sale season and tell us your own review on this item.

Why you should buy transparent frame glasses?
Although clear frame glasses have been around for a while, they have only recently gained popularity. Clear glasses, also known as transparent or colorless frames, are great accessories for men to add a fun style to their overall look.
Nowadays, transparent glasses for men are so popular because they're so simple to put on since they did not require complex outfits and hairstyles to achieve a look. They look great on all face shapes and complement almost any complexion. Another advantage of wearing clear glasses is that they allow you to experiment with larger frame styles because they do not overpower or obstruct your facial features in the same way that darker frames do.
Tips For Styling Your Transparent Frame Glasses
Choose a lighter outfit

: Any color of clothing will eventually complement your clear frames. While dark-colored clothes tend to overpower and draw attention away from your frames, lighter colors will balance the color scheme and help them stand out.

Experiment with being readers

: Readers are always a fun way to try out new shapes and colors. A pair of transparent readers is a simple way to experiment with the clear frame trend.

Choose neatly hairstyle

: Short hairstyles, neatly combed to reveal the forehead are often favored for transparent frame glasses. With these types of hairstyles, the focus will mainly be on your glasses, which is what we are trying to achieve here.
Conclusion
When purchasing new eyewear, it is critical to select the correct shape of glasses. When it comes to transparent frame glasses, you don't have to worry about the shape of the glasses as much as you do about how you can draw attention to them. Choosing an oversized frame is the key to making your clear glasses stand out. Large frames, which are always in style and easy to wear on any face shape, will make your clear glasses easier to see from a distance and make a more dramatic style statement. Do you have other tips that you would like to share with us on men clear glasses? Tell us now and remember to follow us as we have more tips to share with you in the upcoming articles.